Center for Policy and Democracy Hosts Inaugural Conference on Policy Process Research on Auraria Campus
Toula Wellbrook | School of Public Affairs
Feb 27, 2023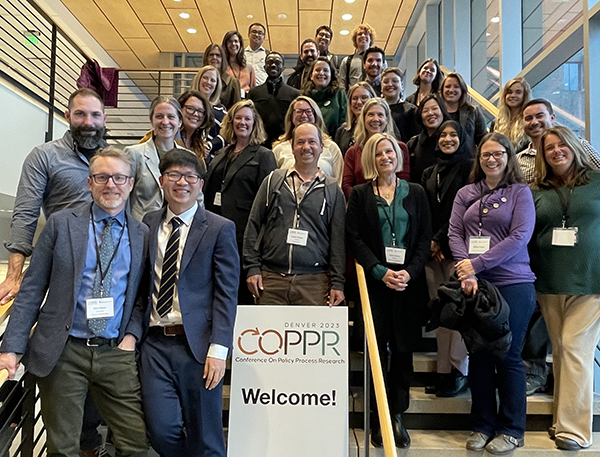 CU Denver's new
Center for Policy Democracy
, (CPD) housed at the School of Public Affairs and co-directed by Professors
Tanya Heikkila
and
Chris Weible
, hosted the inaugural
Conference on Policy Process Research
(COPPR) on the Auraria Campus from January 12 to 14, 2023. Of the nearly 400 policy process researchers who attended the hybrid conference, more than half represented institutions outside the U.S. An evening reception was hosted at the Tivoli Turnalle on January 13.
Throughout the course of 60 sessions held in the Student Commons Building, more than 200 scholars presented on topics that included major policy process frameworks, emerging theories, and the advancement of theories, to name a few. A roundtable on equity, diversity, inclusion, and accessibility (DEIA) provided an opportunity for all attendees to take part in large and small group discussions about the DEIA opportunities and challenges in the policy process research community. Additionally, a lunch and learn was organized specifically for doctoral student attendees.
View the conference and reception photos
.
"Many of the seeds for the COPPR started over 10 years ago, when Chris and I started the Workshop on Policy Process Research (WOPPR)," said Heikkila. "As WOPPR provided a hub for students and colleagues from around the world working on policy process research to come together in more informal or ad-hoc ways, we realized that there would be value in eventually hosting a more formal conference for policy process researchers."
Heikkila described being able to launch the CPD in 2022 and get some initial funding for supporting events like COPPR, primarily from the Linda and Peter deLeon Fund for Policy and Democracy.
"We knew the timing was finally right to finally get the COPPR off the ground," said Heikkila. "Being able to bring many of the former students and colleagues who have collaborated with us at CU Denver over the years to Denver was such an incredible experience."
The mission of COPPR is to advance the scholarship of policy process theory and methods. It embraces a broad interpretation of theories and methods, supporting a plurality of theoretical perspectives. It welcomes both emergent and established theories and methods and questions of what it means to conduct science and engage with our communities. COPPR seeks to support both established and emerging research communities and build bridges among them. COPPR includes critical assessments of the lessons learned from the past, challenges to contemporary boundaries, proposals for innovative research agendas, and arguments of what our future should be.
"COPPR was a historic event in the field of policy studies. Never before has a conference attracted this global community of scholars focused on advancing policy process theories and methods. Even more exciting, the enthusiasm around COPPR in Denver has set in motion its continuation into the future," said Weible.
The COPPR organizing committee consisted of Center for Policy and Democracy Co-Directors and Professors Tanya Heikkila and Chris Weible, Associate Professor Michael Jones from the University of Tennessee, and School of Public Affairs doctoral student Allegra Fullerton.
Equity was a major priority of the organizing committee in its planning, which prompted the decision for the inaugural conference to be delivered in a hybrid format. Additionally, the committee offered free registration to all doctoral students and financial assistance for some students to travel to Denver and book lodging in the SpringHill Suites Downtown Denver, the conference hotel located on the Auraria Campus.
"Attending conferences is critical for doctoral students to receive feedback on their work and for networking with others in the field," said Allegra Fullerton, a student in the school's doctoral program in public affairs and a co-organizer of COPPR. "Conference fees and travel costs are a significant barrier that prevent many students from being able to attend. By offering free student registration, COPPR provided opportunities for students to present their work to diverse, knowledgeable audiences and meet other scholars from across the globe. The feedback I received at COPPR helped to advance my thinking, and the people I met quickly became new friends and mentors."
With a focus on environmental sustainability, the COPPR organizing committee also partnered with Dr. Karin Ingold to provide an in-person venue in Bern, Switzerland for European scholars who wanted to participate in the hybrid conference all the while reducing their carbon footprint by not traveling to Denver.
"It is so impressive that Prof. Weible, Prof. Heikkila, and our excellent School of Public Affairs team pulled off such a fantastic conference. I was able to attend part of COPPR, and the intellectual excitement and energy were palpable," said
Paul Teske
, Dean of the School of Public Affairs. "Major, national conferences have year-round staff exclusively tasked with planning and delivering these conferences. The team from our school organized COPPR themselves and did a great job."
In addition to the CU Denver School of Public Affairs and the Center for Policy and Democracy, the 2023 conference sponsors were the Linda and Peter deLeon Fund for Policy and Democracy, University of Arizona Udall Center for Studies in Public Policy, West Virginia University Institute for Policy Research and Public Affairs, EAWAG - the Swiss Institute of Aquatic Science and Technology, and the journals Policy & Politics, Policy Studies Journal, and Review of Policy Research. COPPR 2024 will be hosted in a different city, and details will be posted on the COPPR website once available.
About the Center for Policy and Democracy

The
Center for Policy and Democracy
is a hub for research, teaching, and community engagement on public policy and democracy. Working across disciplines, states, and countries, we bring various perspectives to study and inform how policies and politics impact the most important issues facing democratic societies today. This research informs our unique approach to teaching public policy, showcased in the Policy Workshop Seminar and the
Master of Public Policy
and
PhD in Public Affairs
degree programs.
About the School of Public Affairs

During the 2022 – 2023 academic year, the University of Colorado Denver School of Public Affairs is celebrating 50 years of creating the next generation of visionary leaders through its undergraduate and graduate programs in public affairs and criminal justice. Courses are taught by renown faculty whose expertise make the school a go-to resource for state and national policy makers.
In the U.S. News & World Report 2023 rankings, the School of Public Affairs is ranked as the top public affairs school in Colorado and number 29 nationally for Best Public Affairs Program
. Its program and specialty rankings include a rank of number 10 in Environmental Policy and Management, number 16 in Nonprofit Management, number 19 in Public Finance and Budgeting, number 21 in Public Management and Leadership, and number 25 in Local Government. The school is ranked number 2 in Colorado for Best Online Graduate Criminal Justice Programs and number 20 in the nation.
The School of Public Affairs also serves as an educational resource to the public through its
research centers
and its timely, relevant, and engaging
events programming
. The school convenes subject experts for panel discussions on current topics involving the fields of public administration, local governance, environmental sustainability, education, and criminal justice.
Categories:
Center for Policy and Democracy

Colorado & Communities

Public Policy & Society

School of Public Affairs

|
Tags:
Center for Policy and Democracy
Christopher Weible
COPPR
Tanya Heikkila