School of Public Affairs launches re-imagined Center for Community Safety and Resilience
Toula Wellbrook | School of Public Affairs
Feb 17, 2023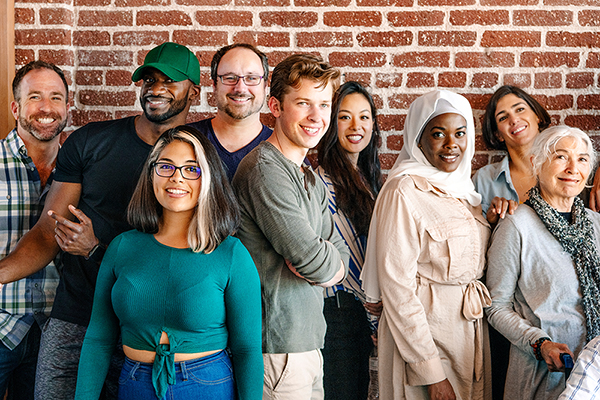 The
School of Public Affairs
at the University of Colorado Denver established the new
Center for Community Safety and Resilience
(CCSR), a collaborative and innovative center whose mission is to advance research-based evidence and practice toward individual and community safety, resilience, and justice through effective programs, practitioner and community education, and public policy advocacy and analysis.
Building on the more-than-20-year-legacy of the Center on Domestic Violence (CDV), whose
founding director, Barb Paradiso, passed away in 2021
, the reimagined CCSR broadens and deepens work on interpersonal violence to advance social justice, increase public safety, eliminate individual and societal violence, and strengthen community resilience.
"We are excited to expand upon the amazing work that was done at CDV for two decades," said Dean Paul Teske of the School of Public Affairs. "Dr. Jain and Dr. Huss have pulled together a team of researchers from across our school with wide-ranging, but complementary, interests in topics that couldn't be more important to our communities in this current time. We also seek broader partnerships to expand the potential impact of the new Center for Community Safety and Resilience."
Envisioning communities robust with thriving individuals and families in safe and supportive environments, the CCSR is dedicated to effective programs, practitioner and community education, and public policy advocacy and analysis. The center aims to bring a holistic approach to specific areas salient and pressing in community violence, including community engagement, program evaluation, teaching effectiveness, partnerships with marginalized communities, and moving the needle on social determinants of health and well-being.
The new center is led by Interim Faculty Co-Director
Sheila Huss
, PhD, and Staff Co-Director
Neena S. Jain
, MD, MSTPH, DTM&H. Uniquely cross-pollinating among all academic programs at the School of Public Affairs, namely in Public Administration, Public Policy, and Criminal Justice, the CCSR builds a collaborative "sandbox" space to create and co-create with faculty, students, and communities in novel ways. A guiding concept in the creation of the CCSR is the utilization of an ecosystem model that convenes roles and expertise across the school to inspire balance, inspiration, and progress.
"What excites me most about CCSR is centering equity and community, utilizing intersectoral and intersectional approaches, and innovating with our uniquely diverse students and communities," said Jain. "Now more than ever, we need novel and collaborative approaches that build individual agency and community resilience to violence."
One of the foundational projects for the CCSR is the launch of the first in a series of annual reports: "Crime Trends in Colorado: 2010 – 2021," co-authored by School of Public Affairs faculty Drs. Callie Rennison and Sheila Huss. The report provides details of violent, property, and substance use crimes for the State of Colorado and the 23 largest policing jurisdictions in the state from 2010 to 2021. It also provides discussions about the data used, their limitations and strengths, and other important information about intelligently assessing the data.
View the Executive Summary of "Crime Trends in Colorado: 2010 – 2021
.
"Putting together the Crime Report with Callie was rewarding," said Huss. "We had an opportunity to not only look at the statistics on short- and long-term crime trends in Colorado, but also to talk about significant contextual issues behind those statistics, ranging from limitations in the data and ensuring our audience understands how crime trends are defined to the importance of local context and media portrayals of crime trends. We are housing the Crime Report in CCSR to build our reputation as a go-to resource for crime analysis in Colorado, which is really exciting! We will build off of what we started this year with panel discussions, conversations with journalists, policy briefs, and other deliverables."
To launch this new report, the CCSR will host a
Criminal Justice Series event at 5 p.m. on Monday, March 6, 2023
, in the Terrace Room at the Lawrence Street Center, 1380 Lawrence Street, Denver, Colorado, 80204. A multi-disciplinary expert panel consisting of annual crime report co-authors Drs. Rennison and Huss; Elise Schmelzer, safety reporter for The Denver Post; and Craig Spingarn, Crime Analyst for the Denver Police Department, will look in depth at the crime report and explore the role of the media in reporting crime and the media's impact on politics, policy-making, and the criminal justice system.
For more information about the Center for Community Safety and Resilience, visit
publicaffairs.ucdenver.edu/ccsr
or contact
ccsr@ucdenver.edu
. Connect with the CCSR on
Facebook
,
Instagram
, and
LinkedIn
.
About the Criminal Justice Series

The Criminal Justice Series events are focused on issues related to crime, justice, and the law. Through panel discussions, debates, guest speakers, and other formats, the series provides a venue for structured civil discourse among experts in the field to promote critical thought and further dialogue that will contribute to better informed citizens and voters.
About the School of Public Affairs

During the 2022 – 2023 academic year, the University of Colorado Denver School of Public Affairs is celebrating 50 years of creating the next generation of visionary leaders through its
undergraduate and graduate programs in public affairs and criminal justice
. Courses are taught by
renown faculty
whose expertise make the school a go-to resource for state and national policy makers.
In the
U.S. News & World Report
2023 rankings, the
School of Public Affairs is ranked as the top public affairs school in Colorado
and number 29 nationally for Best Public Affairs Program. Its program and specialty rankings include a rank of number 10 in Environmental Policy and Management, number 16 in Nonprofit Management, number 19 in Public Finance and Budgeting, number 21 in Public Management and Leadership, and number 25 in Local Government. The school is ranked number 2 in Colorado for Best Online Graduate Criminal Justice Programs and number 20 in the nation.
The School of Public Affairs also serves as an educational resource to the public through its
research centers
and its timely, relevant, and engaging
events programming
. The school convenes subject experts for panel discussions on current topics involving the fields of public administration, local governance, environmental sustainability, education, and criminal justice.
Categories:
Center for Community Safety and Resilience

Colorado & Communities

Criminal Justice

Public Policy & Society

School of Public Affairs

|
Tags:
Center for Community Safety and Resilience
School of Public Affairs