Sec. Kerry to speak at sustainability fundraiser in Denver
CU Denver School of Public Affairs to host 19th Annual Wirth Chair in Sustainable Development Awards Ceremony
Toula Wellbrook | School of Public Affairs
Oct 8, 2019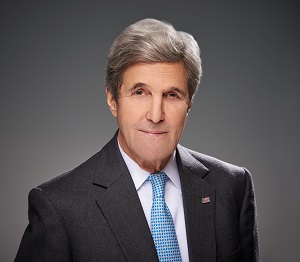 DENVER, Colorado, October 8 — University of Colorado Denver School of Public Affairs will host its 19th Annual Wirth Chair in Sustainable Development Awards Ceremony, "Facing Our Future: A Conversation with Secretary Kerry."
Nearly 300 leaders from Colorado's business, governmental, academic and nonprofit communities will gather for a formal welcome by Denver Mayor Michael Hancock, followed by an armchair conversation between Former U.S. Secretary of State John Kerry and Former Colorado Senator Tim Wirth about moving sustainability beyond environmentalism.
This year's award will be presented to Jerry Tinianow, Chief Sustainability Officer for the City and County of Denver, in recognition of his tireless work on Denver's 80x50 Climate Action Plan. The ceremony will be followed by a private book signing for Sec. Kerry's new memoir "Every Day is Extra."
Sec. John Kerry is the embodiment of public service, having served as a decorated Vietnam veteran, five-term United States senator, 2004 Democratic presidential nominee and Secretary of State for four years. Through his advancement of global sustainability — from national security and denuclearization to climate action — he has demonstrated the importance of diplomacy and American leadership to address the increasingly complex challenges of a more connected world.
Sen. Timothy Wirth served as Colorado's U.S. Senator from 1987 to 1993. In 1988, he organized the historic Jim Hansen hearings on climate change and later authored Project 88 with his close friend Sen. John Heinz (R-PA), outlining the groundbreaking cap and trade idea which became law in the Clean Air Act Amendments of 1990. He chose to not seek reelection in 1992 and instead served in the Clinton Administration as the first Under Secretary of State for Global Affairs. In the State Department, he worked with Vice President Al Gore on global sustainability issues, including U.S. support for the proposed Kyoto Protocol and the nation's commitment to legally binding limits on greenhouse gas emissions. From 1998 to 2013, he served as the president of the United Nations Foundation and currently sits on the Foundation's board.
In 1993, the University of Colorado established the Wirth Chair in Environmental and Community Development Policy to honor his achievements in sustainability. It was the first Chair in public policy at the University and remains the only Chair at the University of Colorado Denver.
Mark Safty is a partner at Holland & Hart LLP and has been serving as the Wirth Chair in Sustainable Development at CU Denver School of Public Affairs since 2013. For more than 30 years, Safty has provided counsel for energy companies throughout the world, specializing in development and financing activity within the renewable energy industry. He is listed in The Best Lawyers in America® for project finance law and his practice group is recognized as a global leader by Chambers USA. He was recently selected as "Colorado's Best Renewable Energy Attorney" by Law Week Colorado. Mr. Safty is an adjunct professor at the University of Colorado Law School and at University of Denver's Sturm College of Law, where he teaches courses on Renewable Energy Development, Regulation, and Finance.
The mission of the Wirth Chair is to foster effective sustainable development strategies that will strive to meet the needs of the present without compromising the ability of future generations to meet their own needs. The Wirth Chair hosts public lectures and events on a broad range of sustainability topics, facilitate the dissemination of academic research to the general public, convenes diverse stakeholders around critical issues, and conducts research on policy issues associated with energy, environmental, economic and social concerns. The annual Wirth Chair Sustainability Awards Luncheon serves as our sole fundraising event.
University of Colorado Denver School of Public Affairs is ranked as the top public affairs school in Colorado and among the best in the nation. The school is creating the next generation of visionary leaders through its undergraduate and graduate programs in public affairs and criminal justice, taught by renown faculty whose expertise make them a go-to resource for state and national policy makers. The school is also known for the caliber of its leadership training programs.
Categories:
Colorado & Communities

Energy & the Environment

School of Public Affairs

|
Tags:
award
Mark Safty
School of Public Affairs
sustainability
Wirth Chair