Students learn about public service through lens of international development during study abroad in Africa
Guest Contributor
Jun 12, 2019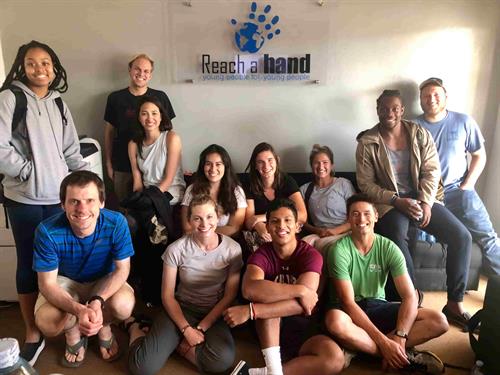 Pictured front row: Seth Kelly (AMPA student), Alice Landfair Mueller (CU Boulder undergraduate), Aditya Das (Rollins College undergraduate), Jacob Sorum (MPA student)

Back row: Maia Lewis (Criminal justice undergraduate), Bailey Galicia (St. Edward's University undergraduate), Lauren Jimenez (MPA student), Delilah Gonzalez (Rollins College undergraduate), Jenna Neitzel (Rollins College undergraduate), Brittany Swanson (MPA student), Emmanuel Byarm (CU Boulder undergraduate), Joseph Zimmerman (MPA alumni).

Five students from CU Denver were joined by students from CU Boulder, Rollins College in Florida, and St. Edward's University in Texas for a study abroad experience in East Africa. From May 21 to June 6, students traveled with Drs. Wendy Bolyard and Jamie Van Leeuwen to Uganda and Rwanda.
Participants were challenged to think differently and bigger about public service from the perspective of international development. Taking an interdisciplinary lens to East Africa, students listened and thought about the role that public management, public health and public service play in urban and rural communities.
They learned that community development is dynamic and not a spectator sport, and witnessed first-hand the familiar challenges in developing countries: poverty, wealth disparity, emerging economies, environmental degradation, poor public health and education infrastructure, and the lack of employment opportunities.
In partnership with the
Global Livingston Institute
, founded by School of Public Affairs PhD alumnus Jamie Van Leeuwen, students visited northern Uganda to understand rural poverty and the impacts of conflict, violence and displacement on community development.
In southern Uganda, students engaged in a series of interactive dialogues focused on women's empowerment, agriculture and rural community development. To complete the trip, in a brief visit to Rwanda students engaged in a final dialogue about economic development and reconciliation following the 1994 genocide. The hope was for students to gain greater self-knowledge and a better sense of personal and professional goals and objectives.
Students interested in participating in this study abroad experience for the Winterim period (January 2 – 17, 2020) should
contact Dr. Wendy Bolyard
for more information.
Categories:
Nonprofit Management & Leadership

Public Policy & Society

School of Public Affairs

|
Tags:
news
School of Public Affairs
Wendy Bolyard