Q&A with public administration student Tressa Carter
Toula Wellbrook | School of Public Affairs
Oct 1, 2021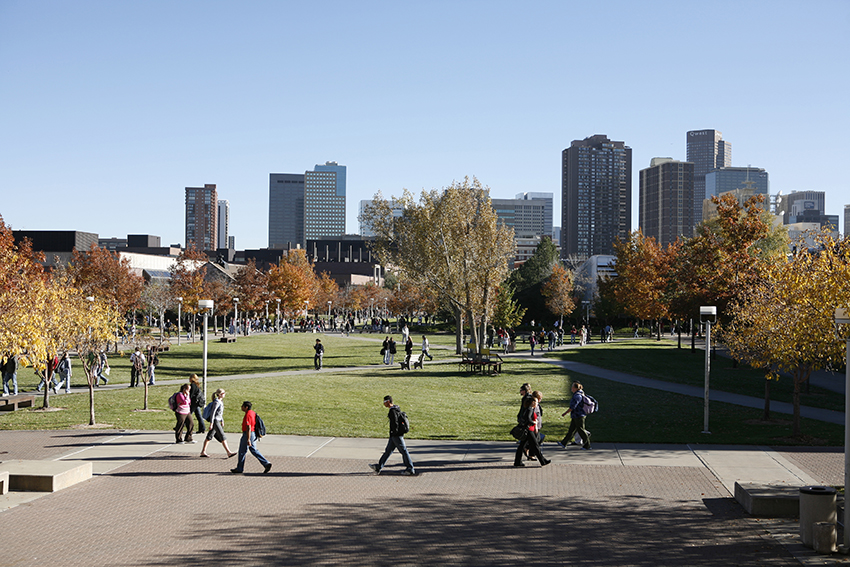 In this School of Public Affairs interview, student Tressa Carter discusses her motivation to pursue the
Pathways Bachelor of Arts in Public Administration-Master of Public Administration
program, her experiences as a non-traditional student, and advice for future students.
Tell me a little bit about yourself: Where are you from? What are your interests and hobbies?

I moved around a lot when I was growing up. I was born in Colorado and then moved to Arizona, Virginia, Kentucky, and back to Colorado in my senior year of high school. While it was difficult at the time, I can look back at the transitions I made in my younger years and have discovered that they helped me grow into the adaptable person I am now.
I am married and have two children, ages 4 and 11. We love to go to the Denver Zoo, the Museum of Nature and Science, and visit as many playgrounds as we possibly can. I also love playing board games and video games.
What influenced you to choose CU Denver and to major in Public Service (recently renamed "Public Administration")?

Before COVID-19, I worked in downtown Denver and right across the street from CU Denver. I took frequent walks on campus and loved the feel of it. The energy was remarkable, and I decided that I wanted to be a part of it!
I chose to major in Public Service because the world is such a crazy place these days. I found myself frequently wishing that I could make a bigger impact in the world, and the Public Service major provided me with the education and resources to achieve that goal.
Tressa Carter
You were in the bachelor's to master's pathways program. What was it like taking graduate courses along with your undergraduate courses?

Taking graduate courses along with my undergraduate courses was an exciting change for me. Graduate courses focus more on the depth of the subject—you get to dig in deep into the public policies, economics, and critical issues that public administrators handle daily. It was wonderful to get a taste of the master's program before I officially applied for the program.
What do you hope to do with your Public Service and Public Administration degrees?

I am currently contemplating two paths. First, I may go into Public Policy, focusing on regulatory matters. Second, I may go into Emergency Management for private and public companies. I love both of these paths so much and can't quite decide which one I want to go with.
What advice do you have for future students?

First, just enjoy it and learn as much as you can! College is hard, and it's a lot of work. However, it is applicable work that we will use every day, regardless of the path we all choose. It's research and analytics, problem-solving, and often working together as a team to accomplish goals. We can all learn so much from one another, so focus on collaborating and embrace the knowledge that we can all learn from not just our professors, but from each other as well!
Second, don't wait to do the readings in the courses. Start them as soon as you receive them and really dig into them—highlighters are your friends!
Lastly, know you can do this! Use time management skills and get ahead on your assignments. Falling behind can be dangerous as it's often difficult to get caught up once you fall into that hole. I work full-time, go to CU Denver, and have two kids. Yes, it's hard but it is worth it. Getting an education is an investment in yourself—you owe it to yourself to excel and achieve!
Is there anything else that you'd like to share?

CU Denver is a fantastic school with great professors. Resources are vast, and there are so many people that want to help us, including advisors and professors. Use these resources—they are invaluable!
Categories:
BAPA Student Features

BAPA-MPA Student Features

MPA Student Features

School of Public Affairs

Student Features

|
Tags:
School of Public Affairs