Municipal broadband in Colorado – What comes next?
First Friday Breakfast Event centered on municipal broadband in Colorado
Kathryn Werner
Feb 1, 2019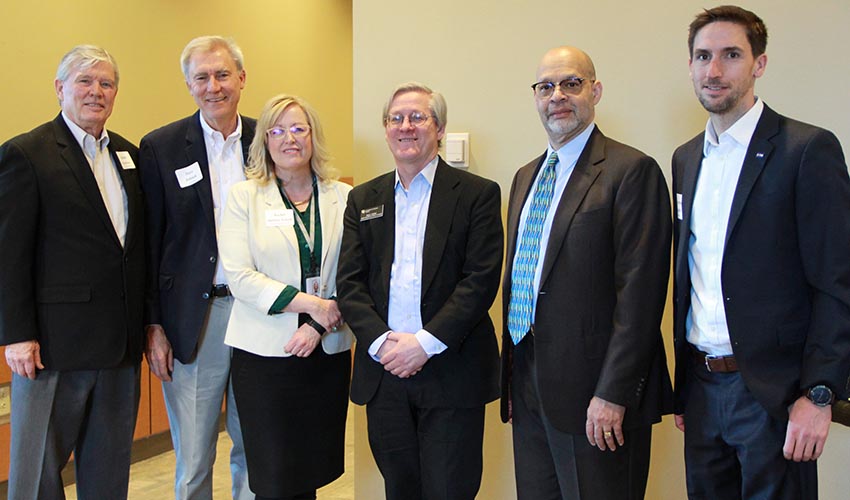 February 1, 2019 – DENVER, CO – CU Denver School of Public Affairs kicked off its spring First Friday Breakfast Series with an engaging panel discussion centered on the topic, 'Municipal Broadband in Colorado – What Comes Next?'
The event was generously sponsored by Kutak Rock, and the four-member panel included Tony Neal-Graves, executive director of the Colorado Broadband Office; Rachel Harlow-Schalk, deputy director for the Division of Local Government at the Colorado Department of Local Affairs; Jordan Beezley, broadband deployment director at the Department of Regulatory Affairs for the State of Colorado; and Dave Zelenokfrom, vice president and manager of local government services for HR Green, Inc., a nationwide engineering and technical consulting firm with two locations in Colorado.
The discussion was moderated by Randy Harrison, a fellow of the School of Public Affairs Institute for Governance, who asked the panelists to provide their perspectives on the current state of broadband in Colorado and where the direction in which the state needs to head.
Neal-Graves opened by referencing the 1930s, when the government was choosing whether to electrify the entire county, and presented the notion that broadband needs to evolve in nationwide conversations. To be successful, he stated, the U.S. needs to decide whether broadband will become a nationwide utility charged based on consumption or a service that customers pay for in order to access.
Neal-Graves' remarks framed the question of 'How do we want to deploy communications structures in the U.S.?' Instead of conversations taking place around the concept of technology, Neal-Graves suggests the country needs to address the concern of availability, affordability, speed and reliability of communication structures around economic development and opportunity.
Harlow-Schalk elaborated further by introducing the idea of regionalizing the conversation around issues and opportunities surrounding broadband communications at the local level. State funding and support has been designed to support local initiatives primarily through middle mile funding, encouraging local leaders to engage in these developments and follow through on completion.
Beezley spoke in depth about the state broadband fund and rural broadband grant program and addressed the question of 'What problem are we trying to solve?' by stating that funding is intended to support local leaders in understanding the underlying problem of connectivity in their area and aid in developing an appropriate plan and that broadband communications in each community need to be tailored to meet area needs. Colorado has many resources to deploy broadband; however, plans need to be developed based on the selection of service providers, the desires of the community and the politics of the local municipality.
Zelenok provided a brief presentation on the reality of bringing broadband communications to an area after aiding Centennial in the successful deployment of services. He and his team partnered with CDOT to develop an intergovernmental agreement to bring 60 miles of shared fiber cable to the area through a public private partnership with Ting. As municipalities begin to successfully deploy these types of infrastructures, smart cities are closer to becoming a reality. Zelenok suggested that through a combination of transit, carpooling, telecommuting and driverless capacity, Interstate 25 will have three times the necessary capacity to assist with broadband.
The overarching theme of the panel discussion was that with regard to the development of broadband communications, efforts need to begin at the local level, and funding and support is needed from the state as municipalities develop infrastructures to meet the needs of their local communities. Community members can aid this effort by becoming knowledgeable about broadband communication services, resources, and technology; advocating for these services in their areas; and choosing and supporting local champions for these efforts.
About CU Denver School of Public Affairs
University of Colorado Denver School of Public Affairs is creating the next generation of visionary leaders through its undergraduate and graduate programs in public affairs and criminal justice, taught by renown faculty whose expertise make them a go-to resource for state and national policy makers. The Master of Public Administration program is accredited by NASPAA, to global standard in public service education, and the school is ranked as the top public affairs school in Colorado and among the best in the nation.
Categories:
Colorado & Communities

Public Management & Finance

Public Policy & Society

School of Public Affairs

|
Tags:
First Friday Breakfast
School of Public Affairs