Master of Public Administration reaccredited by NASPAA
Toula Wellbrook | School of Public Affairs
Aug 20, 2021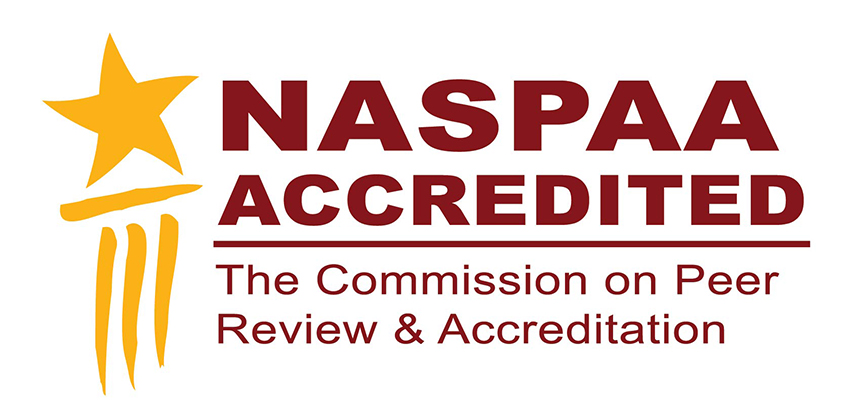 The
Master of Public Administration
offered by the University of Colorado Denver School of Public Affairs has been re-accredited by
NASPPA
, the global standard in public service education.
NASPAA accreditation supports program improvement and student learning outcomes by requiring programs to demonstrate their contributions to advancing the knowledge, research, and practice of public service. At a NASPAA-accredited program, it is essential for faculty members to produce research and engage in service activities, appropriate to the mission of the program.
Together, the 7 NASPAA Standards form the quality benchmark used by graduate public service programs around the world.
Official Standards and Policies:
the guiding documents of NASPAA Accreditation and the Commission on Peer Review and Accreditation, including COPRA Policy Statements
Standard by Standard Guidance:
individual resources for programs completing Self-Study Reports for each of the seven NASPAA Standards, as well as diversity across the standards
Strategic Planning and Assessment:
a guide to approaching the overall strategic program evaluation aspects of NASPAA Accreditation
Strategic Planning and Diversity:
resources aimed at helping programs brainstorm ways to promote a climate of inclusiveness
Peer Examples:
a collection of peer examples from programs in recent accreditation cohorts
Roster of Accredited Programs:
the Roster of Accredited Programs, updated annually
Data on Accredited Programs:
the Annual Accreditation Data Report, as well as publicly available data on each accredited program
Papers & Presentations:
a collection of helpful background materials, prepared by COPRA, NASPAA Committees, and your peers
The reaccreditation process consisted of an initial self-study report, follow-up reports, a virtual site visit, and final responses to the accreditation committee's report. NASPAA's COPRA committee reaccredited the program for seven years, the maximum duration allowed. COPRA formally announced all accreditation actions on August 19, via the release of the 2021 Action Statement. The
2021 Roster of Accredited Programs
will be released on September 1.
Categories:
School of Public Affairs

|
Tags:
School of Public Affairs