Former Vice President Al Gore guest of honor at sustainability fundraiser
CU Denver School of Public Affairs hosts 20th Annual Wirth Chair in Sustainable Development Awards Ceremony
Toula Wellbrook | School of Public Affairs
Sep 19, 2019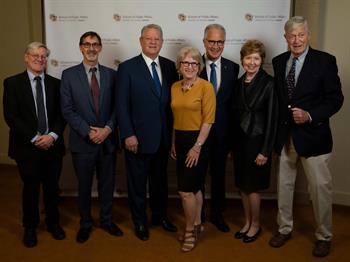 September 19, 2019 – DENVER, CO – Nearly 300 leaders from Colorado's government, nonprofit, business and academic communities gathered for University of Colorado Denver School of Public Affairs' 20th Annual Wirth Chair in Sustainable Development Awards Ceremony with the theme: "Our Collective Future: The Path Forward," featuring guest speakers former Vice President Al Gore and former Colorado Senator Timothy Wirth.
Colorado Governor Jared Polis and Denver Mayor Michael Hancock welcomed attendees, and CU Denver School of Public Affairs Wirth Chair in Sustainable Development Mark Safty presented this year's sustainability award to Gail Klapper, in recognition of her long-term efforts to achieve enlightened and effective policy solutions for Colorado's more persistent challenges. Since 1989, Klapper has served as President of the Colorado Forum, a statewide, non-partisan organization of chief executive officers and leading professionals who work to address difficult public policy issues in Colorado. At the same time, Klapper is also the managing attorney of The Klapper Firm, a law firm emphasizing real estate, transactional work and public policy advocacy.
During Safty's presentation of the award, he commended Klapper and the Colorado Forum for taking on difficult issues, citing the Animas-La Plata river project and the clean-up of the Rocky Flats nuclear waste site as examples of the difficult work she has done to make Colorado a sustainable and forward-looking state.
The award presentation was followed by an armchair discussion between Gore and Wirth that touched on the current state of climate change and other pressing issues, focusing on both caution and optimism. Gore made an impassioned and moving plea for action on critical climate change issues and provided hard scientific facts that cannot be ignored. The enlightened exchange between Gore and Wirth reflected on their past work, together and separately, on climate issues.
About the Wirth Chair in Sustainable Development
In 1993, the University of Colorado established the Wirth Chair in Environmental and Community Development Policy to honor the achievements in sustainability of Colorado Senator Timothy E. Wirth. It was the first Chair in public policy at the University and remains the only Chair at the University of Colorado Denver.
The mission of the Wirth Chair is to foster effective sustainable development strategies that will strive to meet the needs of the present without compromising the ability of future generations to meet their own needs. The Wirth Chair hosts public lectures and events on a broad range of sustainability topics, facilitate the dissemination of academic research to the general public, convenes diverse stakeholders around critical issues, and conducts research on policy issues associated with energy, environmental, economic and social concerns. The annual Wirth Chair Sustainability Awards Luncheon serves as its sole fundraising event.
About CU Denver School of Public Affairs
University of Colorado Denver School of Public Affairs is creating the next generation of visionary leaders through its undergraduate and graduate programs in public affairs and criminal justice, taught by renown faculty whose expertise make them a go-to resource for state and national policy makers. The Master of Public Administration program is accredited by NASPAA, to global standard in public service education, and the school is ranked as the top public affairs school in Colorado and #25 in the nation according to the 2020 US News & World Report Best Graduate Schools rankings. Its program and specialty rankings include a rank of #11 in Environmental Policy and Management, #17 in Public Finance and Budgeting, #21 in Nonprofit Management and #23 in Public Management and Leadership.
Categories:
Colorado & Communities

Energy & the Environment

School of Public Affairs

|
Tags:
Events
Mark Safty
news
School of Public Affairs
Wirth Chair