Five Questions for SPA Alum Jen Darling, President & CEO of Children's Hospital Colorado Foundation
Joan Fishburn | School of Public Affairs
Dec 2, 2022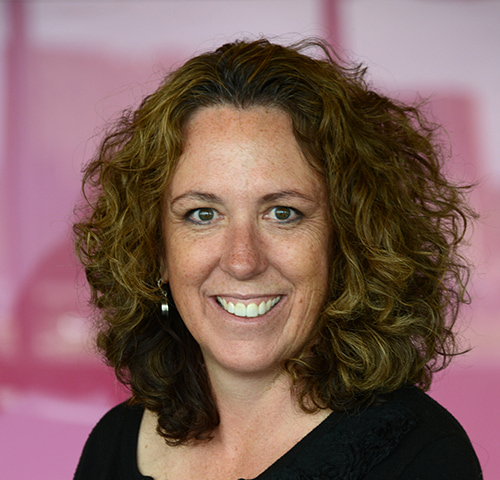 Jennifer R. Darling (MPA '00) is the president and CEO of Children's Hospital Colorado Foundation. She has worked in the nonprofit sector since earning her bachelor's degree in economics and political science from Northwestern University in 1991. She earned her master's degree in public administration from the University of Colorado Denver School of Public Affairs in 2000. Now in her 14th year of service at Children's Colorado, she is also an effective community volunteer. She was actively involved in forming the Institute for Leaders in Development and continues to serve as a program instructor and former Board member.
Jen also helped create and chair the nationally recognized nonprofit Drennen's Dreams Foundation, which promotes pool safety and lifeguard training in memory of Drennen O'Melia. She co-created the Community Chest at The Women's Foundation in Denver to financially support women undergoing treatment for breast cancer. Jen was recently invited to join Northwestern University's Council of 100, a group of prominent female alums. Jen has served as an adjunct professor for the University of Denver in the leadership and organizations program at DU's University College. And she currently serves on the Woodmark Board as the incoming Board Chair and co-chairs the strategic planning process.
Jen's strengths include institutional leadership, motivating others, strategizing comprehensive campaigns, building relationships with volunteers and donors, promoting a positive work culture, and fundraising in all arenas, from annual giving to planned gifts to leadership gifts and beyond.
After growing up in Minnesota and attending Northwestern University in Chicago, Jen settled in Colorado in 1991. In addition to her commitment to her career, Jen is an active mom, friend, and community member, and she enjoys ranch life with her husband Dan and their dog Cheyenne. She values balance in her life and has managed to adjust her career as needed to help her two children grow up to become successful young adults.
What inspired you to pursue a career in public service?


For as long as I can remember, I have been inspired to gather and serve others to help improve my community. From a young age, I became active in Girl Scouts and organized canned food drives at my school to help the less fortunate in the Iron Range of northern Minnesota. I even organized backyard carnivals for muscular dystrophy for all the neighborhood kids. With this calling, I think I was predestined to become a fundraiser, and I've now been doing that for over 31 years. In my mind, there is no better career than partnering with generous philanthropists who strive to make a positive difference in the lives of others around them. I take pride in where I live, and I love to see our community grow and strengthen through the impact of transformational philanthropy. As a mom of two kids in their 20s, I love seeing them become impactful, caring, empathetic contributors to society. That may be my greatest joy, although I also take great pride in the impact I now witness from my years of service as a conduit for philanthropy. I watch our cultural organizations thrive and our institutions for higher education excel. I especially admire Children's Hospital Colorado for continuing to serve our patient families day in and day out despite a pandemic, labor shortages, a mental health crisis, and sheer exhaustion. Our caregivers' fortitude, resiliency, and compassion inspire me to show up at my best every day to serve our incredible mission.
What has been most meaningful to you about your career?

When I started in fundraising decades ago, it was barely a recognized profession, and many nonprofits relied on volunteers to drive philanthropic support. Now, the expectations of a successful fundraiser are much higher, and the job is far more complex. We need to understand personal finances and motivations for giving, and we often help navigate intergenerational family dynamics. The organizations we serve are even more dependent on fundraising successes, and demand for revenue growth only increases yearly. That puts a lot of stress on the fundraisers, so I think we need to be especially attentive to balance in life and self-care – both physically and mentally – so we can remain in this profession for many years and drive positive impact all around us.
Looking back on my career, I know I launched into my profession quickly and successfully because of the amazing mentors who saw my potential and helped groom me. They taught me the "science" of fundraising, and, perhaps more importantly, they role modeled the "art" of engaging with others in compelling, motivational ways that inspire giving. I will forever be grateful to those individuals who took the time to teach me this trade. I have paid that gratitude forward by mentoring others and establishing the Institute for Leaders in Development, which includes mentorship as a primary pillar of its foundation. When I started my fundraising career in 1991, there wasn't a textbook I could use as my guide, so I relied on those who came before me and were willing to teach me what they had learned. I now try to do the same because I believe that advancing the fundraising field will be immensely impactful for our society.
What part of your education at the School of Public Affairs has had the greatest impact on your work?

SPA taught me about important leadership, governance, and administrative skills, particularly in financial oversight and organizational development. I often think back to those lessons when driving strategy for Children's Hospital Colorado Foundation. I remember being fascinated by the life cycles of nonprofit organizations and the impact of those stages of development on the staff and volunteer leaders in terms of the skillsets and roles that were necessary at each stage of institutional growth. The evolution of an organization from the original founder and a volunteer-driven staff structure to a mature, sustainable organization that successfully achieves its mission continues to fascinate me. I think that understanding that organizations are always evolving has inspired me never to be satisfied with the status quo but rather to pursue constant growth and improvements for Children's CO Foundation.
What is your favorite memory of the School of Public Affairs?

I loved the relationships I built with my other classmates. I've tracked some of their career trajectories, and they, too, have enjoyed impactful careers in service to our community. It's really impressive to see how we all followed our desired paths, and I love the ripple effect of SPA's teachings throughout Colorado and far beyond.
Looking ahead, what do you see as the biggest challenges that your field faces?
The act of giving and supporting others is an age-old tradition, and I believe there will always be generous humans willing to share their resources with others who are less fortunate. I worry that the need for philanthropic support is outweighing the global inclination to give. There is enough wealth in the world, but we need those special souls who are generous and compassionate to inspire others to give as well. Government support alone cannot fund all the need out there (from homelessness to mental health support to food insecurities and more), so each of us needs to be as generous as possible.
What advice would you give current students at the School of Public Affairs?

I commend today's students for pursuing degrees in public administration, so keep with it and receive those diplomas. Go out into the world and be an agent for good. While studying, I would encourage them to also pursue work experiences through internships or jobs in their field of choice. As a fundraiser, it's great to know the academic theories, but those should be paired with real-world experiences to be most impactful as learning tools.
Tags:
alumni
School of Public Affairs