Five Questions for Michael Penny
50th Anniversary Profile
Joan Fishburn | School of Public Affairs
Oct 18, 2022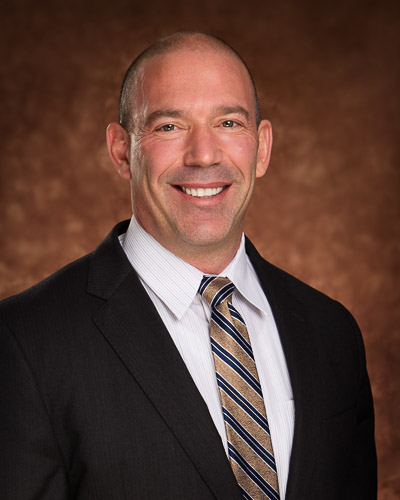 For more than three decades, Michael Penny (MPA '97) has exemplified the ideals of leadership, collaboration, partnership, and teamwork as the administrative manager for both large and small municipalities across Colorado. His passion and dedication to building robust communities that address the critical needs of citizens, businesses, and industry are evidenced by the strong footprint Michael has left in each community he has touched.
Michael's career path is marked with success through significant contributions to local government as a municipal manager, consultant, and private sector strategist. Michael currently serves as the City Manager for the City of Castle Pines. His prior experience includes roles as the Vice President of Client Services for Brown and Caldwell (2016 to 2017), City Manager for the City of Littleton, Colorado (2011 to 2016), Town Manager for the Town of Frisco, Colorado (2004 to 2011) and City Manager for the City of Ouray, Colorado (2002 to 2004).
Michael's passion for community and mentorship is noted in his regular role as a lecturer at the University of Colorado Denver School of Public Affairs.
What inspired you to pursue a career in public service?

This story requires that you remember that as a young college student, my undergraduate focus was political science until I had a professor say I had better want to be a lawyer or a politician. I quickly changed my focus to criminal justice with a focus on administration. At the time, I wanted to be a police chief and clean up the hypocrisy of law enforcement – little did I know the politics involved in law enforcement. Unbeknownst to me at the time, this decision is what really started my trajectory into a life of public service.
When I graduated, I began to apply for law enforcement positions and couldn't get an interview. This was at a time when there were hundreds or thousands of applicants for a handful of positions. My failure to enter the law enforcement field led me to apply to the City of Boulder as the Parking Control Officer and the Parking Services Coordinator – at the same time. As we walked to the employee interview group, I'll never forget the hiring supervisor asking me why I applied for both positions. I responded that if she hired me for the Parking Control Officer position, she would quickly see that she should have hired me for the Parking Services Coordinator. She hired me for the coordinator position.
Once I had the job, I was off and running in my career in public service. As my positions changed, my experience broadened, and my awareness grew, my passion solidified for a lifetime career in public service.
What has been most meaningful to you about your career?

First, let me say that I firmly believe that your position's title and rank don't matter if your passion is local government public service. You can have a real impact on people's lives regardless of what position you hold in local government. The effect on the community comes from your actions and your passion for serving and making your community great. One of the most successful restaurants landed in Littleton because a sign inspector mentioned, to the restaurant owner, that a piece of property was for sale. The owner was literally about to drive out of town, having given up on finding a location. That's memorable (Thank you, Pam!)
The most meaningful aspect of my career is that I can look back to every community I've served and know I made a positive impact and left the community better than when I started. In that statement and over my career, I've had significant losses and incredible successes. Yet, every day I focused on making the community better than when I had started the day.
I'll provide a few tangible examples of my meaningful experiences and love for public service.
Every city council meeting is democracy in action. We may not be solving homelessness or solving world peace. Still, the staff report, reviewed and acted upon by the elected body chosen to lead the community, is a policy action request that is moving through the democratic process. The Council's decision to repair a street, build a park, add a staff person, create an ordinance or any other actions by the Council is democracy in action. Think of it – all across America, in thousands of small and large communities, democratic debates and decisions are being made that, collectively along with state and federal governments, make up our incredible country. Who wouldn't find that meaningful?
The hundreds of times that citizens contact the city to ask for a stop sign to be replaced, a pothole to be filled, an officer to assist, a building official to explain permitting a deck, or any number of requests, is an opportunity to help make their lives and community better. The local government holds that responsibility (and I am biased towards local government). Our ability to positively influence our community at the local level is memorable every working day. This is not to say that my name hasn't been mud more times than I can count, but our role is to facilitate community conversations to find the best solution for the community at that moment in time with the information known. Who wouldn't find that meaningful?
It seems we are wired and have built-in DNA to distrust and puke up on the government. I'm guilty, but I at least know and acknowledge that I know very little about state or federal governments. That said, the ability to work through complex community issues and see the fruits of the participant's labor come to fruition is an amazing experience. For example, without boring you with lots of details, the failed Home Depot vote in Frisco resulted in what you experience today in this small community in Summit County. A vibrant downtown, significant affordable housing units with residents now on the Town Council. A profitable tubing hill and bike park that helped make Frisco a destination. A town-run marina that is at capacity the moment Mother Nature says, "We're open for business." A shopping area anchored by Whole Foods. These actions and projects grew from a community that stood up and said, "We are not a Home Depot." At that time, trust and respect for their local government were low. From that place, work was done to make Frisco what it is today (This took over eight years – not easy)! Who wouldn't find that meaningful?
Memorable are those moments when citizens, visitors, or business owners say thank you to a city staff member.
How did your experience at the School of Public Affairs impact how you thought about your work?

I attended the School of Public Affairs while working full time in Boulder and taking the bus to Auraria every day for school. The experience of entering the classroom, with the quality of professors, along with many colleagues working in local government, was a gift at that time in my career. My awareness of the role of public service was limited. To date, my definition of public service came from a few undergraduate classes and talking with my colleagues in Boulder. Having the opportunity to participate in the learning and conversations generated by the School of Public Affairs was critical in my growth and, ultimately, my decision and desire to become a city manager. The graduate-level experience is critical to opening eyes and expanding horizons. I'm sure you can say this about many career paths, but I believe it is critical (yes, I used the word again) in public service. The ability to acknowledge that you don't know what you don't know boosts your ability to serve. Being inquisitive in seeking answers and the ideas of others. Understanding the vastness of what is 'democracy.' Becoming aware of the complexity and requirements of public service and understanding the history, philosophy, beliefs, and thoughts of those who have come before. Creating a person who is better able to be successful in attaining their dreams and best able to serve the public. All this happened to me during my years at the School of Public Affairs.
What is your favorite memory of the School of Public Affairs?

My time at the School of Public Affairs was many years ago. We were in different buildings, and the Auraria campus was not what it is today. I say that to share that my memories are nostalgic. Memories include the small classrooms (maybe broom closets?), the great teachers who wrote on chalkboards (maybe there were whiteboards?), and the incredible students. There were the great bars (free peanuts and throw those shells on the floor) where we would all go work on group projects or homework or debate our views on public service and democracy. Thank you to the School of Public Affairs for those memories and the great success of my career.
What advice would you give current students at the School of Public Affairs?

Enjoy the journey! Take the time to read and do the homework. Engage with your professors. Talk and challenge your fellow students. Network – it may feel like an internet world, but it's still all about relationships. Don't let your time at the School of Public Affairs slide by – grow and expand yourself during that time. Call or email me if I can be of assistance in helping you reach your own goals and dreams.
Categories:
Colorado & Communities

Public Management & Finance

School of Public Affairs

SPA 50th Anniversary

|
Tags:
alumni
School of Public Affairs