Economic Development Class Strengthens Two Southern Colorado Communities to Come Out of COVID-19 Stronger Than Ever
Guest Contributor
Nov 23, 2020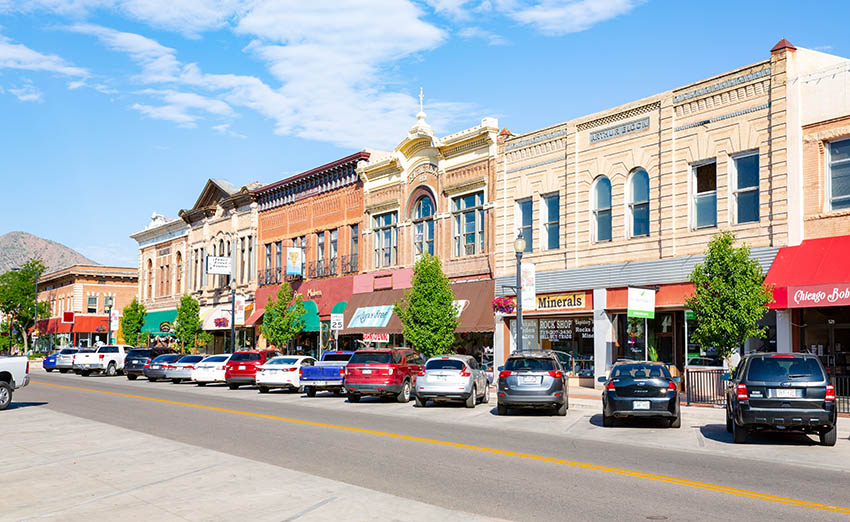 Since 2017, students in CU Denver School of Public Affairs lecturer
Randy Harrison
's Economic Development course (PUAD 5630) have had the opportunity to engage with Colorado communities in an experience unlike any felt in a typical classroom. Through its partnership with
Downtown Colorado, Inc.
, (DCI) this course allows students to become project coordinators in a process known as the Colorado Challenge Program. Students connect with community members and experts in the field to establish a plan of work to engage public, private, and non-profit partners in addressing a significant community challenge over the course of their semester. Through their partnership, students and DCI have connected with and created initiatives for almost 30 Colorado communities.
Despite the touchdown of the COVID-19 pandemic in early 2020, the intentions for community improvement by this year's students, their DCI partner, and the five Colorado communities selected to participate in the program were unwavering. In order to shape their plans of action, the School of Public Affairs-DCI team transitioned their work with the 2020 Challenge Communities entirely online.
Throughout this time of transition, the students and DCI helped two Southern Colorado communities adapt and help their small businesses, youth, and residents stay hopeful. Cañon City and Rocky Ford are two communities involved with this program that are focused on revitalizing their main street through business support and building an identity as a place ready for business.
Through the Challenge Program Assistance at the beginning of the pandemic, Cañon City established a Recovery Taskforce, an auction to support small business, and $70,000 worth of grants to support permanent restaurant patio expansion. During the semester, School of Public Affairs Student Coordinator Devin Clark worked closely with the City of Cañon City to identify stakeholders and to develop recommendations and action steps to create a "Booming Main Street." Since then, the town has hired a Main Street Program Manager and identified catalyst sites, incentives, cultivated unique Cañon City events and symbols to get more businesses and people downtown.
Ashley Smith, Mayor of Cañon City, provided this testimonial about her experience in the Challenge program:
"I am so grateful to be a member of the DCI Challenge Program. It has been a great asset to us in Cañon City to have DCI as intensive mentors and also all of the resources they've provided for us to help us get through COVID-19 and help us advise our small businesses. We've had a lot of success stories come from our partnership with DCI and the School of Public Affairs this year."

Devin Clark provided this testimonial about her experience working with DCI and participating in the Challenge program:
"It was a great experience working with DCI. It was a great learning experience and I would love to continue working with Cañon City and DCI moving forward."

In Rocky Ford, initially the Challenge was focused on "Creating a Sustainable Job Economy" to support job growth; however, it was clear that Rocky Ford faced many short-term challenges due to COVID-19 that needed to be addressed. The School of Public Affairs Student Coordinator Patrick Walton used his experience and passion for grassroots community development to develop a strategy for short-term COVID-19-adaptations as well as to help position Rocky Ford's economy to emerge from the current situation stronger than before. Since then, Rocky Ford has received $20,000 in grants to help facilitate training and business creation within the communities. These trainings from a wide range of partners will include Entrepreneurship Training, IT Training, Workforce Training and Upskilling, Development Readiness Training and Construction Training.
The 2020 Challenge Studios were conducted virtually due to COVID-19. Although the format was shifted online, there was a variety of participants attending from across the state. The format included breakout sessions to discuss and brainstorm solutions to these challenges with participation from local, regional, and statewide partners and consultants. These studios in April helped to establish goals to move through an uncertain time into the future.
As the semester came to a close, School of Public Affairs students drafted a comprehensive report for each community summarizing identified assets, obstacles, and opportunities their respective community might pursue based on stakeholder conversations and the Virtual Studio Workshop. Today, DCI continues to work with each of these communities to implement the action plans the students put together for the 2020 Challenge Communities.
The School of Public Affairs Economic Development class has been credited by communities for providing an important service at this time of need. Past students from this class have also attributed the real-life experience as the number one class they reference when sharing experience for a job interview. The class is remarkably well-suited for virtual participation and in 2021 will consider the prospects and frameworks that communities will need to build more inclusive places in the future.
Learn more about the
academic programs
at the CU Denver School of Public Affairs and
how to apply for admission
. Currently enrolled students at CU Denver can
register now
for PUAD 5630 - Economic Development for spring 2021.
Categories:
Colorado & Communities

Public Management & Finance

Public Policy & Society

School of Public Affairs

|
Tags:
Randy Harrison