DCLF Alumni Spotlight: Renzo Amaya
Renzo Amaya, Health Navigation Workforce Specialist, Colorado Department of Public Health & Environment
Guest Contributor
Aug 4, 2020
Renzo Amaya, Health Navigation Workforce Specialist, Colorado Department of Public Health & Environment, participated in the
Denver Community Leadership Forum
during the 2019- 2020 cohort year.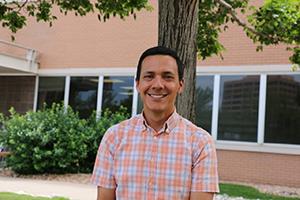 Please share about your career path and what is something you wish you had known when starting out.
I work at the Colorado Department of Public Health and Environment (CDPHE) as a health navigation workforce specialist. The health navigator workforce supports overburdened healthcare delivery teams to prevent and manage costly health conditions and the recognition of their role has been growing over the years. Previously, my work at the department focused on funding and technical assistance to healthcare delivery systems with the goal of increasing rates of diabetes and blood pressure control. I used to work at Denver Health as a patient navigator helping patients navigate services and resources in either the health care system or social services.
As someone with perfectionist tendencies, I always wanted to make the perfect decision. I've come to realize that no matter what path I take, everything has value in it, and there is something to learn from every interaction and experience. By looking at life from this lens, it relieves some stress, and I feel more at ease with my decisions.
What made you decide to participate in the Denver Community Leadership Forum (DCLF)?
My supervisor and her supervisor are alumni of the program and encouraged me to participate. Partly because I wanted to grow my confidence in my new role, I saw it as a great opportunity to take advantage of. I was slightly concerned about the time commitment and reached out to a colleague who also participated in program. My colleague really loved the program and said the time commitment was worth it.
What are your key takeaways from DCLF?
From DCLF, I learned about leading from any position and reframing leadership as not just a title or position. Outward Bound was a chance for people to face their fears and understand we often don't always know what we are capable of.
It's easy to be carried away with your routines and what needs to be done. DCLF allows you to carve out time to work on your own growth, which requires doing the internal work of understanding your strengths, preferences, values, and how to keep yourself in check. Being part of DCLF was timely, because my job transition happened during the program. I was able to translate the program's concepts towards my situation and watched the progress in my confidence, perceptiveness, and perseverance.
What advice do you have for future DCLF participants?

Compared to nine months ago, I notice a difference now because of DCLF. I could have just thought, "Well, that was fun, interesting, and I made new friends." However, what makes the program so valuable was being present and actively participating in the program. Be sure to attend sessions consistently, and prioritize them. Also, reflect on what you learned, and challenge your assumptions--both with your cohort and on your own.
This interview has been edited for clarity.
Categories:
Colorado & Communities

Public Management & Finance

School of Public Affairs

|
Tags:
DCLF
School of Public Affairs