DCLF Alumni Spotlight: Matthew Hamilton
Matthew Hamilton, Director of Corporate Sustainability, VF Corporation
Guest Contributor
Aug 4, 2020
Matthew Hamilton, Director of Corporate Sustainability, VF Corporation, participated in the
Denver Community Leadership Forum
during the 2000 - 2001 cohort year.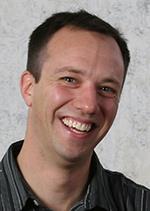 Please share about your career path and what is something you wish you had known when starting out.

I started my professional career as a research officer with the Piton Foundation, which is when I started the Denver Community Leadership Forum (DCLF). In 2005, I moved to the mountains and landed a job at Aspen Skiing Company, first as a coordinator, then manager, and ultimately the sustainability director. After 15 years at Aspen Skiing Company, I decided to try a new career challenge and joined VF Corporation in June 2019 as their Director of Corporate Sustainability.
At VF, I am responsible for reducing the environmental impacts of approximately 2000 owned and operated facilities. My focus is on waste, water, energy, green building, and adoption of policies that reduce climate change impacts. I also collaborate with our logistics team to develop strategies that reduce the emissions from shipping decisions in line with our Science-Based Targets.
If I had to do it all over again, I would have gotten a Master's in Business Administration in addition to my Master's in Public Policy. If you're trying to do sustainability work, it is critically important to understand the financial drivers that are leading the decisions your clients, departments, and Chief Financial Officer are making and be able to speak their language.
What made you decide to participate in the Denver Community Leadership Forum (DCLF)?
In 2001, I had only been in Denver for two years and thought DCLF was a great way to build connections, your network, and understand the various players and opportunities for influence and leverage within the community.
What still resonates with you about DCLF?
The positive aspects and challenges of the Outward Bound experience resonates with me. Also, I remember being in DCLF during September 11th. We had a session to process what happened and I remember being so angry because a professor whom I was close to and her family lost their lives that day. As I'm sitting here now, I'm recalling that feeling of friendship, kinship, and understanding in processing that situation together. I'm still connected to people in my cohort and feel I could still pick up the phone and call them.
I remember the DCLF facilitators setting up an open environment for listening collectively and building a shared understanding among a diverse group of people. As well as seeing how our communities are interconnected and how we can address the challenges we face as a community and society. Networks, like DCLF, are critical in learning the importance of building these connections as a way of getting things done.
What advice do you have for future DCLF participants?

It is important to be present. Life is too short and being able to spend time in DCLF is an opportunity and blessing. Professionally, you don't get those opportunities very often, so take full advantage of them. The people in your cohort are all equally interesting and committed people who will also be strong connections for you over your career.
This interview has been edited for clarity.
Categories:
Energy & the Environment

School of Public Affairs

|
Tags:
DCLF
School of Public Affairs