Arms promotes sensitivity and awareness in Police-Community Relations class
Rebecca Gianarkis | School of Public Affairs
Sep 11, 2020
Fall 2020 Course: CRJU 3320: Police-Community Relations

Lecturer
Arthur "Skip" Arms
brings to the classroom 34 years of experience serving the Colorado Springs Police Department in roles ranging from Officer to Commander in areas ranging from and community relations to internal investigations. When asked why he teaches, Lecturer Arms easily replies, "It's my opportunity to give back to the career that gave me so much." Arms is able to "give back" because the undergraduate core and elective courses he teaches are primarily full of students who aspire to work in some level of law enforcement.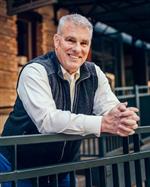 More than once, Arms explains that higher education plays a critical role in preparing people to enter the law enforcement field, and students should therefore continue on after high school even if it is not required by a police department. According to Arms, college classrooms are the places wherein students grapple with the nuances of current events, hone their speaking and writing skills, and ask questions about the lived experience of others.
This fall 2020, Arms is teaching 'Police-Community Relations' in a highly charged socio-political environment. He plans to conduct the class as usual by reminding students to express their views and respect one another "for the sake of open conversation." With regret, Arms acknowledges the following crux of the class: "There still exists what I call an ugly underbelly of policing…and you can't understand community relations without acknowledging the existence of this dark underbelly." Students in Arms' class are likely to experience discomfort when wading into these waters, but he is hopeful that students will emerge from the class with situational awareness so "they are much more sensitive to these issues [and] able to handle them better."
Arms fosters awareness in a number of ways. He might invite to the classroom those who have had negative police encounters or encourage students to interview those who work in the field. If a student takes a definitive position on an issue, Arms challenges them to take up the opposing position for the next assignment. Students are expected to complete at least two "community engagements" per semester, which could include participation in a ride along, a career day, an agency-hosted tour, a panel discussion, etc. Throughout the class, speaking and writing skills are practiced because Arms notes, "In order to become a leader in your field, you have to be able to present yourself."
Above all, Arms wants students to know he is there for them to discuss topics as benign as how to improve test scores to as serious as how to repair an already fragile police-community relationship. Arms regularly makes himself available to meet students for coffee or, in the times of the pandemic, for a virtual cup of coffee! Finally, he reminds students that "policing is much more than a cop in a uniform." From police dispatchers to lab technicians, there are so many ways that students can enter and grow within the field and so many opportunities for positive impact.
Categories:
Criminal Justice

School of Public Affairs

|
Tags:
School of Public Affairs