The Unequal Cost of Brittle Power Infrastructure
Dr. Serena Kim | School of Public Affairs
Mar 18, 2021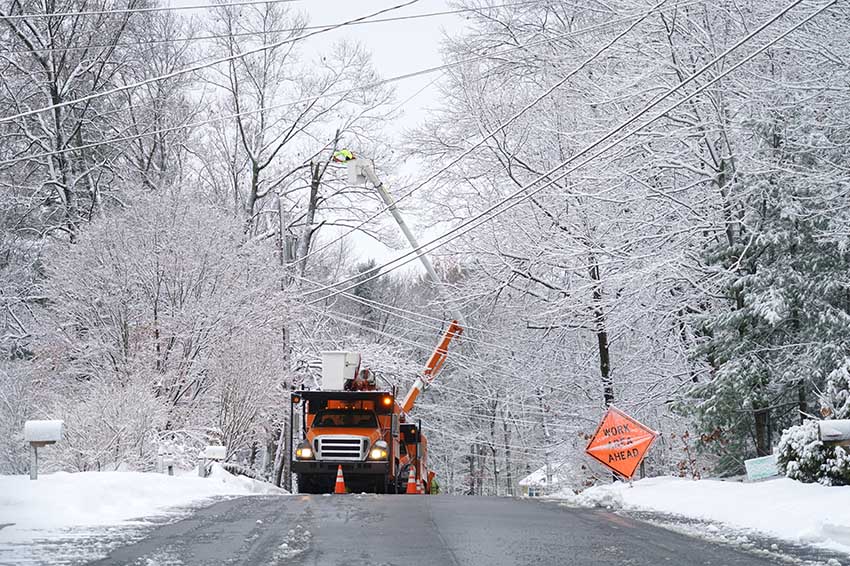 The Texas winter storm in February 2021 caused at least
57 deaths, according to the Texas health department
. People died from hypothermia, carbon monoxide poisoning and medical equipment failure during the prolonged power outage in the dangerously cold weather. Millions of people were left without electricity for days and weeks, which coincided with the COVID-19 pandemic. People who were lucky enough to keep the lights on during the storm were surprised with electric bills in the thousands of dollars.
The blackout has exposed problems of the unregulated power market, aging electricity infrastructure and the lack of preparedness for frequent extreme weather events. But it also revealed social inequities in such problems. Lower-income communities, People of Color, and historically Black and Hispanic neighborhoods were hit the hardest by the power outage.
While Downtown Austin had power the entire time, East Austin,
the city's historically Black and Hispanic neighborhood
since the early 1900s, was left without power. The photo below, taken by a local television reporter in Austin, shows a stark contrast between the two neighborhoods. Not only did lower-income and racially marginalized communities disproportionately suffer from cold and food shortages during the prolonged power outage, but they had a harder time recovering from the disaster due to the lack of resources.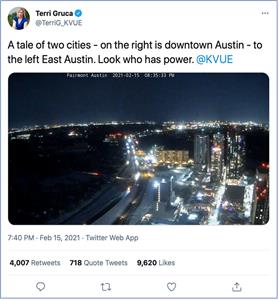 (Photo by Terri Gruca, a Reporter at KVUE, ABC-affiliated television station licensed to Austin, Texas)
Texas Governor Greg Abbott publicly blamed wind turbines for the power outage, but wind energy was not the main cause of the power generation failure.
Natural gas and coal take up more than half of Texas' power generation capacity
. All power generation facilities, including those involving natural gas, coal, nuclear, and wind, were not prepared for the cold weather and failed to operate during the cold snap.
Ten years ago, the
Federal Energy Regulatory Commission warned
Texas that its power grid was unready for cold conditions. The commission recommended taking steps to winterize plants. However, Texas sidestepped the federal recommendation as Texas has its own electric grid, mostly operated by the Electric Reliability Council of Texas (ERCOT).
Texas is the only state in the country with its own power grid, which is why Texas couldn't obtain electricity from other states when it lost power. In 1935, when Congress passed the
Federal Power Act
, which regulates interstate activities of electricity transmission and sales, Texas opted for an independent grid to avoid being subjected to federal regulation.
The Texas power crisis calls attention to grid resilience. Grid resilience is one step beyond day-to-day grid reliability. While grid reliability is the ability of the power system to deliver electricity to users at all times, grid resilience is the ability of the power system to withstand and recover from disruptive events, such as natural disasters and malicious attacks. Grid resilience is becoming increasingly more important as there are growing
potential threats
from frequent extreme weather events due to climate change, malicious physical or cyber-attacks.
While cold snaps are less of a concern,
wildfires and extreme heat are the major threats to Colorado's power grid
. Wildfires and extreme heat can burn power lines and cause outages, and those lines can start fires especially under dry conditions and strong winds. Wildfires are more common in rural areas, and these areas often have aging electricity transmission and distribution infrastructure that are more susceptible to failure. The onus of a failing electric grid system will fall more heavily on lower-income neighborhoods in Colorado's rural areas.
At least two actions can be considered to enhance Colorado's community resilience and mitigate social and economic costs of power failure. First, state and federal governments should support grid modernization efforts by rural electric cooperatives. Unlike investor-owned utilities like Xcel Energy, which have incentives to invest in grid modernization as they often own power plants and profit from the capital investment, rural electric cooperatives typically lose money from grid modernization investment, at least in the short term. Public investments and
loan programs
for rural electric cooperatives can enhance rural areas' grid resilience and distributed energy generation in underserved rural areas.
Second, more microgrids should be deployed in rural and remote areas. A microgrid is a group of interconnected distributed energy resources, including power storage, load control, and energy management systems. Microgrids can operate independently even if the grid shuts off, and customers can use microgrids to keep power during an outage. Notwithstanding the potential benefits to grid resilience, there are a number of legal, interconnection and power quality issues that need to be addressed to effectively introduce microgrids in Colorado. Microgrids are currently illegal with a few exceptions in Colorado. Recently, Xcel Energy proposed to implement seven microgrids which are designated as local resilience centers to provide food, water and shelter in the event of an emergency. These projects may serve as a testbed for future microgrids.
The impact of natural disasters is often harsher, more direct and more prolonged for lower-income people and People of Color. The Texas power outage was no exception, as
it disproportionately left more deaths and devastation in vulnerable communities
. Let the Texas blackout be a wake-up call for the United States; Colorado should not ignore this clear warning sign.
Categories:
Colorado & Communities

Energy & the Environment

Public Management & Finance

Public Policy & Society

School of Public Affairs

|
Tags:
School of Public Affairs
Serena Kim