Individuals are key to Colorado's creative economy resurgence
Dr. Jane Hansberry | School of Public Affairs
Mar 29, 2021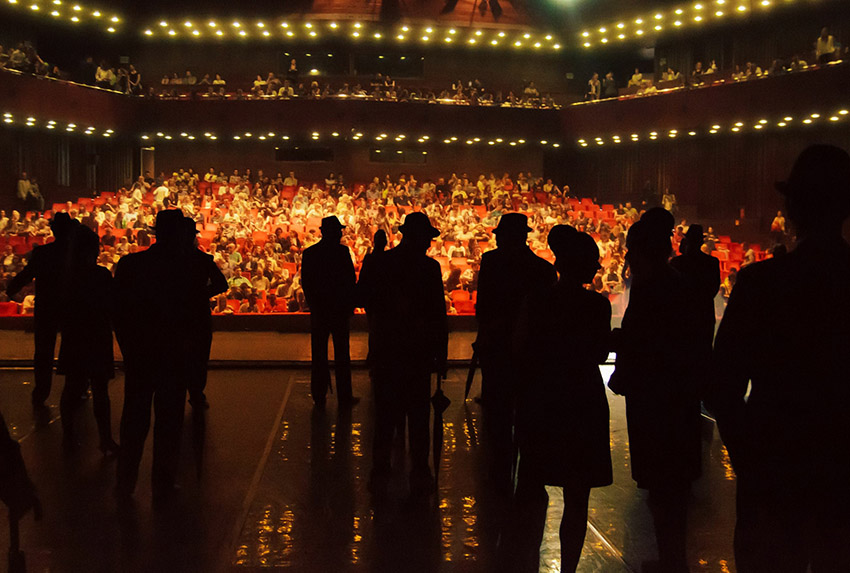 The great Broadway theatres were among the first organizations to go dark in the pandemic. We watched footage of the lights of Broadway dimming, with each closure an economic, cultural, and spiritual loss for the city, for cultural organizations, for individual artists, and for us, as arts lovers. These images were set against the images of tremendous suffering and pain New York City endured as one of the first COVID-19 epicenters. Not lost on us was sadness for the loss of our arts and culture venues and experiences when we've most needed them. Not lost on us was and is the sadness we feel for the economic and personal losses this pandemic has wreaked on artists and creatives. And yes, we felt our spirits lifted by Yo-Yo Ma who brought us "Songs of Comfort." We began exploring YouTube for the serendipity of discovering musicians, dancers, and visual artists who had found new venues for expression. Notwithstanding these and other joyful moments, however, COVID-19 has impacted the cultural sector deeply, with projections of years needed for full recovery.

Johns Hopkins Center for Civil Society Studies calculated nonprofit sector job losses over the pandemic year using data from the Bureau of Labor Statistics (BLS). BLS data indicates the arts and entertainment nonprofit sector nationally lost nearly 35% of jobs from February 2020 to February 2021. This contrasts with job losses of 14% in education nonprofits; 10% job losses in civic and religious nonprofits; 7% of social service nonprofit jobs; and 4% of health care nonprofit jobs. Cumulatively the nonprofit sector lost just over 7% of all nonprofit jobs.

The job loss data for Colorado's creative industries is in line with national averages. Colorado Creative Industries (CCI), a division of the state's Office of Economic Development and International Trade, included initial impacts of the COVID-19 crisis in its 2020 Colorado Creative Economy Report, released in September 2020. CCI defines the creative industry as including not only performing and visual arts, but design and advertising, publishing, architecture, film, television and radio, creative technology, fashion, culinary arts, and culture and heritage. Through July 2020 Colorado's creative industries had already lost more than 59,000 jobs. Hardest hit were jobs in the performing and visual arts, with more than 31,000 jobs lost. This is a stunning loss of jobs across the creative industries, an economic engine that had seen 25% job growth from 2010-2019 and that was responsible for $31.6 billion in sales of goods and services in 2019, fully 4% of all goods and services sold throughout the state—more than mining or transportation.

In response to the pandemic's economic hit, arts and culture organizations have reached out to donors and members for support. Over the past year organizations have found ways to pivot some of their offerings to the online space both as placeholder and to serve their community. Still, the sheer amount of lost income and jobs is overwhelming. Last month individual artists and cultural organizations received $7.4 million in COVID-19 economic relief funding through the Colorado Arts Relief Fund. The funds were made possible by legislation – SB 20B-001- Small and Minority Businesses Arts Organizations enacted by the Colorado legislature during its special session in December 2020. Designated cultural funding through this bill was distributed through two separate grant applications:
Colorado Arts Relief—Business and Organization
Colorado Arts Relief—Individuals
The Colorado Arts Relief Funds grants were administered by Colorado Creative Industries in partnership with Redline Arts Center in Denver. The Colorado Arts Relief Fund for individuals awarded $1.365 million to 599 individuals in 41 Colorado counties. Grants to individuals were in amounts up to $2,500. The Colorado Arts Relief Fund for cultural businesses and organizations provided general operating support grants totaling $5,985,500 to 123 arts, culture, and entertainment organizations in 33 counties across Colorado. Award amounts were based on organizational budget size and percent income loss between 2019 and 2020. This was the second and by far the larger of two state relief funds distributions. The prior effort was part of the Colorado Cares Act and was initiated in May 2020, providing grants of up to $5,000 for arts and culture organizations. Total distribution for that effort was just under $1 million.

Other cultural relief initiatives include the collaboration between Bonfils Stanton Foundation, the Denver Foundation, and Arts and Venues Denver (the City and County of Denver's cultural agency). On March 17, 2021 those partners announced a second round of grants to arts organizations. More than 50 arts organizations located in the City and County of Denver will receive second-round grants ranging from $5,000 to $50,000 from Denver's COVID-19 Arts & Culture Relief Fund. Round one of grants was distributed through the fund in August 2020 and totaled just over $1million. Denver Arts and Venues estimates 30,000 of the 59,000 Colorado cultural jobs lost were artists and cultural workers located in Denver County.

Important to note the ongoing funding provided by the Scientific and Cultural Facilities District (SCFD). The 30-year-old SCFD is a regional special district comprising Adams, Arapahoe, Boulder, Broomfield, Denver, Jefferson, and the northern half of Douglas County. SCFD collects and distributes .01% sales and use tax, totaling just over $66 million in grants in 2019 to more than 300 Metro Denver arts and culture organizations. Estimates are the 2020 distributions will be slightly over that amount. This source of operating funds proved instrumental in helping mitigate the impact of the 2008 Great Recession and will be important to analyze its role in this current economic downturn. To that end, the SCFD is collaborating with the Colorado Business for the Arts (CBCA) on the next biennial economic impact of SCFD funding report, due to be rolled out in fall 2021. That report will provide data allowing comparison of 2018, 2019, and 2020 arts and culture employment and economic impact.

So yes, there is good news and hope on several fronts for relief for arts and culture organizations and for individual artists. Good news is individuals hold the key to the most consequential support. Individual donors, individual ticket purchasers and attendees are key to the resurgence of Colorado's arts and culture sector. Trends over the past two decades reflect individual donations and earned income comprise more than 60% of arts and culture funding.

How to begin supporting arts and culture? Start by checking out this website compiled by Colorado Business Committee for the Arts (CBCA): artsthroughitall.org.

CBCA and others have curated lists of arts and culture organizations providing performances, exhibits, workshops, and classes – some virtual, and some in safe social distancing spaces. There's listings of individual artists and galleries and their upcoming shows and exhibits, listings of educational opportunities for Coloradans of all ages. It's exciting to feel the glimmers of spring and signs of re-opening. Let's play our part so when our communities are truly open again, our arts and culture institutions will be too.
Categories:
Colorado & Communities

Nonprofit Management & Leadership

School of Public Affairs

|
Tags:
Jane Hansberry
School of Public Affairs