New interactive budget tool allows voters to see impact of ballot questions
University of Colorado Denver School of Public Affairs partners with Balancing Act for online simulation that ties proposed new funding to spending on education, transportation
Guest Contributor
Oct 19, 2018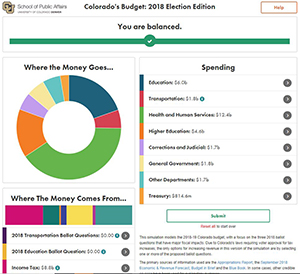 October 19, 2018 – DENVER, CO – University of Colorado Denver School of Public Affairs and Balancing Act, an online public budget simulation maker, announced the release of a new tool for Colorado voters to see the impacts of three ballot proposals that, if passed, would dramatically increase funding for transportation and P-12 education. Each proposed funding increase is linked to spending called for in each measure.
"This partnership with Balancing Act is very exciting because it gives SPA's audiences of students, alumni, and interested citizens a chance to not just see the impacts of possible decisions ahead of them as voters this month, but also to shape those outcomes in a simulation framework," says Dean Paul Teske. "There is a lot on our Colorado ballot, and this will help voters understand tax choices better."
In addition to the three ballot questions, the simulation is also a full representation of the Colorado budget, covering spending items from corrections to health care and marijuana tax to vehicle registration on the revenue side. Each item has easy to understand explanations and users have the option to decrease or increase the amounts, within constitutional constraints.
When users complete the simulation, they receive a summary of how their choices vary from the current budget.
"In Colorado, voters are ultimately in charge of tax policy, not legislators or the governor," says Chris Adams, president of Balancing Act and also a senior fellow at the School of Public Affairs. "This means that all of us have a duty to learn about our state's budget issues, and the changes proposed by the ballot questions, so that we can make good choices."
The tool is free and available to anyone on the internet. The simulation is an excellent classroom resource for civics and economics teachers to engage students in current events. It can be found at www.ColoradoBalancingAct.com.
The simulation will be updated over the course of the year to be relevant to different phases of the budget process, such as when the legislature considers the Long Bill (the primary budget bill) in March.
University of Colorado Denver School of Public Affairs is ranked as the top public affairs school in Colorado and among the best in the nation. The school is creating the next generation of visionary leaders through its undergraduate and graduate programs in public affairs and criminal justice, taught by renown faculty whose expertise make them a go-to resource for state and national policy makers. The school is ranked #23 in the nation for public finance scholarship and recently hosted the annual national meeting of the Association for Budgeting and Public Finance.
Balancing Act was created by Engaged Public, a Colorado-based public policy consulting firm founded in 1998 and specializing in engagement-driven strategies and public policy leadership development. Engaged Public's mission is to bridge people and policy through meaningful, productive dialogue and other innovative tools. Engaged Public has produced a Colorado Budget simulation since 2007.
Categories:
Colorado & Communities

Community Partners

Public Management & Finance

School of Public Affairs

|
Tags:
ballots
partnership
Paul Teske
School of Public Affairs
taxes
voting