Six Questions for SPA Alum Dallas Elgin, Research Scientist at RTI International
Ellen Patterson | School of Public Affairs
Oct 25, 2023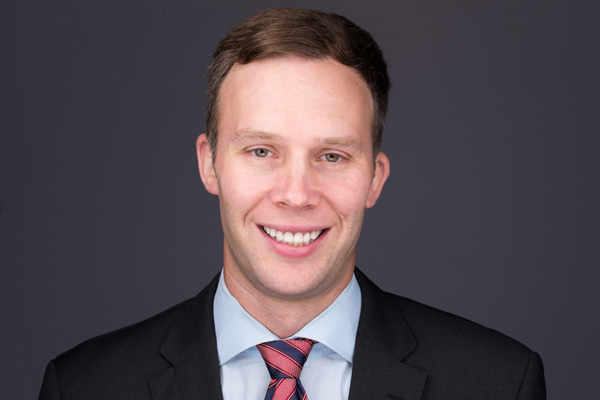 Dallas Elgin is a research scientist at RTI International where he leads research and evaluation studies focused on increasing the effectiveness, equity, and efficiency of programs and policies designed to address adverse childhood experiences (ACEs) and social determinants of health (SDOH) among children and families. Dr. Elgin has utilized his background in experimental, quasi-experimental, and mixed methods research to lead studies focused on child welfare and the intersections with an array of human services including food assistance, housing, and behavioral health programs on behalf of the U.S. Department of Health and Human Services' Administration for Children and Families, the Centers for Disease Control and Prevention, the U.S. Department of Agriculture's Food and Nutrition Service, the U.S. Department of Housing and Urban Development, and multiple state human services agencies.
He currently serves as Co-principal investigator on a randomized controlled trial evaluation with the Centers for Disease Control and Prevention focused on evaluating community-level approaches for mitigating the harms of ACEs—potentially traumatic events that occur in childhood—and stopping substance use. He is also Co-PI on three mixed methods evaluations of child welfare and home visiting interventions in Colorado. His previous experience includes serving as a Senior Researcher at the Colorado Department of Human Services, Division of Child Welfare, where he served as the state's senior expert in internal and contracted program evaluation efforts and was responsible for conducting research and evaluations that examined the policy context, implementation, outcomes, and costs of human services programs.
After graduating from SPA's PhD program, Dallas and his wife spent five fun and productive years working in Washington, DC. They now live in Denver with their two energetic and precocious children, and loyal chocolate Labrador retriever.
What inspired you to pursue a career in public service?

I became interested in government and public service beginning with my fifth-grade civics class. I've been fortunate to pursue my interest via an undergraduate degree in political science while at Florida State University. When I began thinking about graduate school, a family friend and mentor strongly encouraged me to take a close look at SPA. The subsequent decision to apply and attend SPA was one of the best decisions I've ever made.
What has been most meaningful to you about your career?

My wife likes to tease me about how excited I am to go to work each morning. I feel extremely grateful to have a career where I get to spend each day working toward my personal mission of conducting rigorous research that helps to make government policies and programs more effective, equitable, and efficient.
What part of your education at the School of Public Affairs has had the greatest impact on your work?

Taking coursework in quantitative, qualitative, and mixed methods research has had a tremendous impact on my career and in my recurring work with multidisciplinary teams comprised of psychologists, economists, sociologists, social workers, and public health experts. Several SPA faculty instilled in me the analogy that we need to have a lot of different research methods in our "policy analysis toolkits" in order to address difficult policy issues. SPA's doctoral program provided me with a robust toolkit that has been invaluable for helping me to identify and employ the appropriate research methods, whether that be randomized controlled trials, qualitative comparative analysis, or econometric methods, which are needed to conduct rigorous research on children, youth, and families.
What is your favorite memory of the School of Public Affairs?

Working with my advisor, Chris Weible, who was a tremendous mentor and always encouraged me to incorporate rigor and to think deeply about the policy implications of my research. One of my best memories was working with Chris and a group of colleagues on a series of conference papers for the Association of Public Policy Analysis & Management's fall research conference in Washington, DC. I was blown away by the multidisciplinary research presented at the conference and the mix of academics and policy practitioners who enthusiastically participated in panels, roundtables, and workshops. That conference had a tremendous impact on both my professional and personal life, as several years later my wife and I moved to Washington, DC and ended up raising two little Washingtonians.
Looking ahead, what do you see as the biggest challenges that your field faces?

A primary challenge continues to be building the scientific evidence base for determining the effectiveness of policies and programs focused on children, youth, and families. The field has made tremendous strides in recent years in terms of funding randomized controlled trials and quasi-experimental evaluations and the meta-analyses that synthesize the findings from multiple studies, but a great deal of work remains. I'm grateful and proud that I get to play a role in this important work.
What advice would you give to current students at the School of Public Affairs?

Use your time at SPA to connect with your fellow students, faculty, and alumni to expand the breadth and depth of the topics that you are interested in or passionate about. These opportunities to engage with others and learn about their work and interests can be illuminating and can often provide new ways of thinking about your career. Make the most of your time at SPA and focus on exploring your passions so that you can pursue a purpose-driven career that makes you excited to wake up each day.
Categories:
Colorado & Communities

Public Policy & Society

School of Public Affairs

|
Tags:
alumni
School of Public Affairs