Six Questions for SPA Alum Anneliese Steel, Senior Director of Public Affairs for Colorado Concern
Jun 7, 2023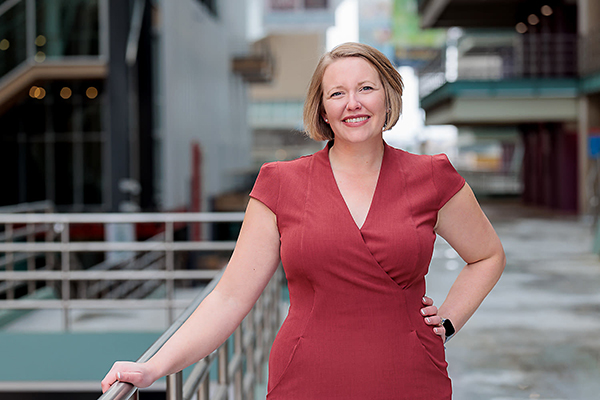 Anneliese Steel is the Senior Director of Public Affairs for Colorado Concern, an executive alliance committed to protecting and enhancing the Centennial state's business economy. She manages a robust policy portfolio, including issue research, legislative drafting, lobbying, and public testimony, along with member and media relations. She helped champion the successful passage of $5.3 billion dollars in funding for the 10-Year Transportation Plan, secure over $700 million in property tax relief, achieve substantial occupational licensing reform, and create a new rulemaking transparency website for the state of Colorado.
Prior to her work at Colorado Concern, Anneliese spent a decade in the Outdoor Industry. She has worked for the Access Fund, the Colorado Outward Bound School, and internationally in rural agricultural development. Anneliese serves as Chair of the Fix CRUS Coalition, an Advocacy Committee member of the Boulder Climbing Community, a Leadership Team member of the Colorado Inclusive Economy, and a Luncheon Committee member of the Women's Foundation of Colorado. She has previously served as Chair of the Boulder Climbing Community, as a founding member of the University of Colorado Denver's School of Public Affairs GOLD Board, on the City of Louisville Open Space Advisory Board, and as a pro-bono lobbyist for #MEAction Colorado.
Anneliese is a weekend warrior who loves white water rafting, hiking, mountain biking, trail running, and rock climbing. She is dedicated to preserving the Colorado way of life while ensuring this state remains a great place to adventure and do business. She has a Master of Public Administration from the University of Colorado Denver and a Bachelor of Arts from Sarah Lawrence College. She lives in Louisville with her husband, Adam, and black lab, June.
What inspired you to pursue a career in public service?

While working in nonprofit development for a rock climbing advocacy organization, I joined the team for a Washington, D.C. fly-in. We were there to advocate for the restoration of Bears Ears National Monument and full funding for the Land and Water Conservation Fund. I managed athletes, brand ambassadors, and media but had an opportunity to sit in on a few of the meetings with legislators. I realized that lobbying was just like fundraising; you build relationships and try to find alignment between each other's needs for a broader public good. I spoke to the head of the US Forest Service about the immense amount of rock climbing in the Daniel Boone National Forest and how recreation tourism could be a path forward for rural Appalachia. It energized me in a new way, and I decided to pivot my career. Not long after, I left the Access Fund and enrolled in the Accelerated MPA program at the School of Public Affairs.
What has been most meaningful to you about your career?

A fellow SPA alum saw potential in my unique background and hired me. Over the past four years, I have worked on several transformational projects that will have far-reaching impacts on the Colorado economy. I've written four laws, helped lead the successful passage of the $5.3 billion 10-Year Transportation Plan, and secured substantial property tax relief for homeowners and business owners. I find meaning in getting deeply familiar with a particular issue and working with coalitions to develop long-lasting policy reform. Change is made by the people who show up and lean in; I am deeply grateful to have been at the negotiating table for some essential and lasting wins.
What part of your education at the School of Public Affairs has had the greatest impact on your work?

The Administrative Law class I took had the most significant impact on my work. We read case law and wrote condensed memos on the salient points, which I now do daily. So much of academia focuses on page length; in this class, we practiced synthesizing our analysis so that it could be grasped in as few words as possible. If you can convey robust research in bullets or a short paragraph, legislators will read it. If you need 2+ pages to make your point, it will almost certainly get missed in the heat of the legislative session. Brevity is your friend. Practice that memo writing.
What is your favorite memory of the School of Public Affairs?

While studying at SPA, I was committed to meeting as many folks as possible who worked in the types of jobs I wanted. I wanted to know their career paths, their day-to-day responsibilities, how much they got paid, and what advice they had for people interested in their industry. I spoke to our Career Development and Alumni Engagement Manager, and together we created a Lunch and Learn series where I would invite public affairs professionals to talk to our class once a week, and the school would purchase lunch for everyone. It was an excellent opportunity for students that the school supported. I enjoyed curating speakers that were of interest to my classmates and greatly appreciated the support of the SPA staff.
Looking ahead, what do you see as the biggest challenges that your field faces?

Some legislators are more concerned with their public image rather than getting laws passed. You see this more at the federal level, but it is seeping into state politics. Lawmakers brand themselves as either progressive or conservative and are hesitant to cross the aisle and make compromise legislation. Perfect is the enemy of progress, and those who seek perfection will most likely get nothing. I am more interested in working with the officials who want to sit at the table and find complex solutions than those who want to protest outside the room. You're seeing lawmakers resist improving a partisan bill because it would mean working with the other side and "tainting" their public image. Instead, these lawmakers choose to run statement bills that draw a ton of attention but rarely move the needle. In my opinion, this kind of leadership is ineffective and wastes everyone's time.
What advice would you give to current students at the School of Public Affairs?

Think big. When I was in school, I wanted to work in environmental policy to support the recreation economy. I spent most of my time networking with environmental nonprofit professionals and focused my capstone around the State Offices of Outdoor Recreation. I was laser-focused on a narrow goal and missed the opportunity to broaden my interests. When I graduated, I found that the companies I wanted to work for required 4+ years of policy experience or didn't pay a living wage, sometimes both. It took a few months before I was willing to broaden my search to related industries; I'm so grateful I did. Today I work on various issues, from transportation to taxation. It is constantly changing and fascinating to be a part of. There is a lot of exciting work in the field of public administration; there is no need to limit your impact. Keep as many doors open as possible; you never know what you may fall in love with.
Categories:
Colorado & Communities

Nonprofit Management & Leadership

School of Public Affairs

SPA 50th Anniversary

|
Tags:
alumni
School of Public Affairs