Five Questions for SPA Alum Naureen Singh, Youth Support and Development Specialist at the Asian Pacific Development Center; Policy Director of Colorado Sikhs
Ellen Patterson | School of Public Affairs
Nov 15, 2023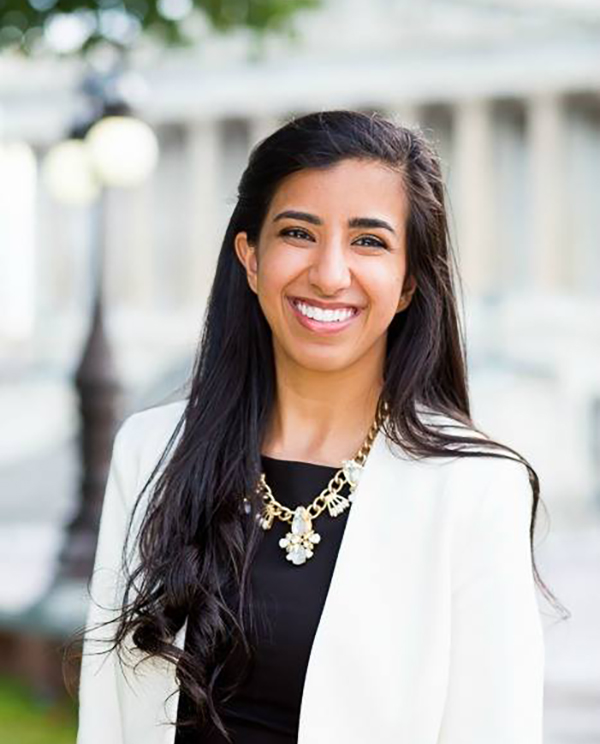 Naureen Singh is a Youth Support and Development Specialist at the Asian Pacific Development Center and the Policy Director of Colorado Sikhs. Naureen has also earned her commission and currently works on addressing claims of unlawful discrimination and sexual harassment in the United States Air Force. She graduated with her Bachelor of Arts in Molecular, Cellular, and Developmental Biology from the University of Colorado Boulder. She went on to earn her Master of Criminal Justice degree from the University of Colorado Denver. Singh has extensive professional experience with grassroots organizing, interfaith coalition building, and community building. Recently, she has been selected to lead the Colorado Sikh History Project. Additionally, Singh contributes as a member of the University of Colorado Denver School of Public Affairs' GOLD Board and provides consultation services to various education and civil rights organizations. Looking towards the future, Naureen aspires to run for public office, driven by her desire to shape policies, advocate for important issues, and foster meaningful change within communities. She also has a keen interest in K-POP music and loves exploring different parts of the world.
What inspired you to pursue a career in public service?

My journey into public service has been deeply influenced by my Sikh identity. The aspects of Sikhi (Sikhism term coined in the 19th century by Europeans), such as resilience, strength, a determined spirit, and a profound commitment to serving others, resonate with me on a profound level. The history of Sikhs, known for their longstanding fight for justice, has undoubtedly shaped my inclination toward public service.
My father's experience as a turban-wearing Sikh in the U.S. military stands as a testament to the ongoing struggle for the right to express religious identity. His perseverance has paved the way for others, not just Sikhs, in the U.S. military. Equally inspiring is my mother, who immigrated to the United States and demonstrated extraordinary resilience as she navigated the trials of adapting to a new life. While my father fulfilled extensive military duties, my mother single-handedly raised my siblings and me, exemplifying the often unseen and undervalued labor that goes into being a mother. Both my parents successfully adapted to a new country, and the challenges they confronted as immigrants have inspired me to pursue a career in public service.
What has been most meaningful to you about your career?

Throughout my career, I have had the privilege of working in both the nonprofit and government sectors. What makes my career particularly fulfilling is the ability to establish connections between these realms and leverage my skills in different spaces.
One of the recent projects I am proud to lead is the Colorado Sikh History Project, which aims to raise awareness and promote understanding of the rich heritage of the Sikh community in Colorado. Although rooted in a faith-based nonprofit initiative, the far-reaching impact of our research has opened doors to incorporating our findings into state history curriculum, museum exhibitions, and even local government presentations.
This harmonious blend of service to my country and investment in my local community empowers me to make a meaningful impact.
What part of your education at the School of Public Affairs has had the greatest impact on your work?

During the Spring of 2021, while pursuing my master's in criminal justice, I enjoyed the Capstone. Concurrently working full-time at the Asian Pacific Development Center, I was acutely aware of the heightened levels of fear and hate crimes experienced by our clients during the COVID-19 pandemic. This led me to center my Capstone on exploring the impact of COVID-19 on Colorado's AANHPI (Asian American, Native Hawaiian, and Pacific Islander) populations, focusing on victimization and feelings of safety.
The findings of the Capstone suggested that, like national statistics, the state of Colorado felt an impact locally. Within AANHPI communities in Colorado, feelings of safety dropped, and experiences of hate incidents mirrored national reports. All AANHPI communities in the study had reported incidents of hate attributed to the COVID-19 pandemic, many of which involved explicit reference to COVID-19. Avoidance and shunning remained the most reported form of incident experienced by AANHPI communities in Colorado, followed by online misconduct and verbal harassment.
My Capstone journey brought me immense fulfillment as I focused on a topic meaningful to me. The research shed light on the impact of COVID-19 on Colorado's AANHPI populations, leading to tangible outcomes such as the mobilization of resources and the provision of crucial information to various organizations and communities.
Looking ahead, what do you see as the biggest challenges that your field faces?

My educational journey at the School of Public Affairs, coupled with the insights gained from my 2021 Capstone project, has emphasized the critical importance of comprehensive and accurate data. Access to reliable data ensures that the appropriate resources are allocated to grassroots organizations already actively addressing community needs. The government can avoid duplicating efforts by leaning on local organizations that are trusted by communities. This approach forms a strong foundation for fostering long-term trust and collaboration. By leveraging existing and ongoing initiatives, and better data, we can extend support and resources to those most in need.
What advice would you give to current students at the School of Public Affairs?

During my time at CU Denver, I faced the challenge of balancing multiple commitments: a full-time job, my military career, a part-time position, and a rigorous course load of 12 credit hours, including a Capstone. This experience taught me a valuable lesson: there is no one-size-fits-all model for being a student or building a career in the School of Public Affairs.
I still remember hearing the words from my younger sister, "You have limitless potential," before applying to the School of Public Affairs at CU Denver. Today, I wholeheartedly share that sentiment with current students.
Initially, I had doubts and added stress as I entered the program with a non-traditional degree in this field. I questioned the value of investing my resources, time, and finances in pursuing a degree that might not be something I planned for during my undergraduate studies. However, I realized that these doubts were self-imposed barriers. With some adjustments, I discovered that the more effort I invested into the program, the greater the returns on my investment could be.
Categories:
Colorado & Communities

Criminal Justice

Nonprofit Management & Leadership

School of Public Affairs

|
Tags:
alumni
School of Public Affairs