A multi-generational family of alumni reminisces about their shared appreciation of their time at the School of Public Affairs
Ellen Patterson | School of Public Affairs
Aug 21, 2023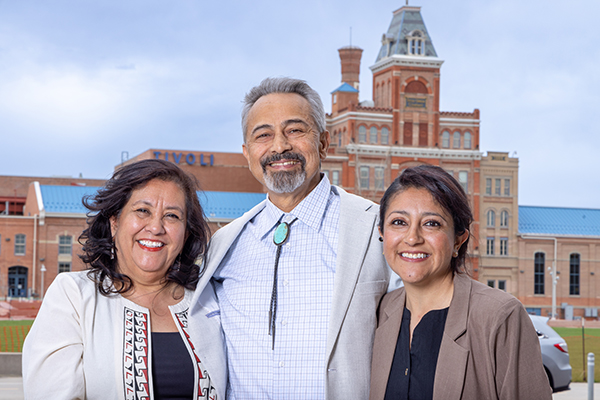 The School of Public Affairs recently had the honor of sitting down with a unique trio of alumni – Elsa Holguín (MPA '11), her husband Ed Lucero (MPA '98), and her daughter Denise Gomez (MPA '16) – a multi-generational example of the impact of SPA's programs in the greater community. The three were welcomed by Dean Paul Teske and SPA team members Katie Imhoff and Ellen Patterson at the university's Lawrence Street Center to chat about their individual experiences as MPA students.
Elsa, President and CEO of the Denver Preschool Program, was a working mother of two when she first enrolled in courses at the School of Public Affairs. She recalls that SPA's flexible, yet rigorous, course schedule allowed her to attend the classes she needed while simultaneously caring for the other responsibilities in her life. Near the end of her degree, she got engaged to Ed, who earned his degree from SPA in the 1990s. Ed, now retired, was a Senior Program Officer at the Colorado Trust and now continues to serve his community in a volunteer capacity. Denise, Elsa's daughter and Ed's stepdaughter, obtained her MPA a few years later and solidified that serving the public interest is a true family affair.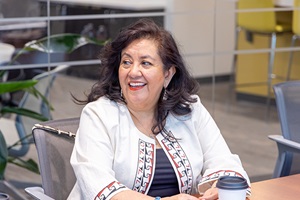 As a first-generation immigrant to the United States, Elsa had a firsthand perspective of the importance of strong community policies and government. "I saw poverty at its core," she said. "I saw what happens when the system fails." Looking back at the earlier years of her professional and academic career, Elsa never would have imagined she would be where she is now, supporting tens of thousands of families to access early childhood education. "People just don't understand public administration, and they don't understand the context that is so much more than working in government," Elsa noted, elaborating that her passion for nonprofit work allowed her to dig deeper into many concepts less commonly associated with public administration. At SPA, she appreciated the opportunities she was given to lean into provoking conversations about values and morals, where she learned skills and lessons she applies to her current work in the community. Elsa emphasized her appreciation for the caliber and content of conversations that take place among students and instructors at SPA.
Elsa credits the leadership skills she uses daily to advance the Denver Preschool Program's mission to her time at the School of Public Affairs, reflecting that the MPA program played a significant role in developing her inherent leadership abilities in an organic way. Elsa's biggest takeaway from her time at SPA is her drive to constantly push the limits of her dreams. She encourages current students to "dare to dream" and not hold themselves back from being the ones to make real change happen.
Ed echoed this sentiment of open-mindedness, reflecting that his willingness to truly listen to the diverse group of his peers was one of his greatest takeaways from his time at the School of Public Affairs. "It was invaluable, it was an incredible part of the SPA experience, listening to the other students," he said, noting that students "contributed in ways that I never imagined that I would be learning from." Ed credits his time at SPA as foundational to the work he would go on to do after graduating, especially when it came to understanding and applying the concepts of public policy and advocacy work among the communities he served while working at the Colorado Trust. SPA's education on not only conceptualizing and implementing public policy strategy – but also in creating and interpreting effective evaluations for those strategies – enabled Ed to take on leadership roles in his organization and guide his peers in effectively analyzing their programs. He was able to ensure true public impact while also successfully communicating the necessity of Colorado Trust programs to community members and other key stakeholders.
The impact of Ed's work at the Colorado Trust, specifically the Safe2Tell Colorado program, is seen not only throughout Colorado but across the country, a reach that Ed attributes in part to his education at the School of Public Affairs. Like Elsa, Ed said he couldn't have imagined the policies he would impact and the extent of the advocacy he would ultimately oversee when he started his degree at SPA.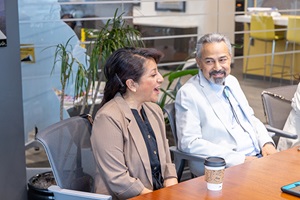 As Ed reflects back on a successful career, Denise is looking forward to how she can further her involvement and impact in her communities. As a founding Principal of Ambedo Consulting, Denise works to build upon community investments to provide nonprofits increased fund and capacity building through an equitable stewardship lens. Denise has a passion for engaging the younger generation by guiding them to find their communities and helping them make the most of the networks available to them. She remembered how, growing up, she was exposed to many of Elsa and Ed's colleagues and peers. "Generational wealth is knowledge," she said, emphasizing that the wisdom these role models imparted on her was a true gift she wants to carry forward. Denise believes the MPA program filled a gap of providing real-world, applicable information that was lacking from her undergraduate education. She especially appreciated when instructors brought case studies to life in ways that allowed students to clearly see applications in their communities. In her current work, Denise frequently identifies peers and people in her network who are also SPA alumni, further confirming her sentiment that the relationships formed while attending SPA are instrumental in professional growth and community building beyond the classroom.
Denise reflected that the impact SPA left on Elsa and Ed was passed forward to her, and in turn played a role in her own academic and professional journeys. The trio agreed that attending the School of Public Affairs enabled them all to reach out in their communities in ways they never could have imagined, an impact that will be passed forward through the next generation through the continued good work of this family of public servants.
Categories:
Colorado & Communities

Nonprofit Management & Leadership

Public Policy & Society

School of Public Affairs

|
Tags:
alumni
School of Public Affairs